5G might have been given plenty of air time but it was MagSafe that was the standout feature of the new iPhone 12 range for me.
There are now 4 variations of the new iPhone and all come with a 'new' industrial design which has the iPhone X display and notch but in a body more reminiscent of the iPhone 4 or iPhone 5. The also all get a display with Ceramic Shield which promises to be 4 times more resistance to being dropped... I look forward to seeing what JerryRigEverything makes of that claim because I'm way more interested in it being more resistant to scratches..
iPhone 12 Mini
The new form factor is very interesting. Slightly shorter than the current SE (and iPhones 6, 7 & 8) but with an edge to edge, OLED display like all of it's bigger brothers. That means that the Liquid Retina HD displays are no more in the most recent releases and only available on the XR and last years iPhone 11. If you're in the market for a new phone this year then your choice comes down to size and/or your camera needs.
The Mini makes the most sense to me as an iPhone. It's pocketable and has everything the 'regular' iPhone 12 has. The Pro models don't feel as compelling this year unless you're a keen mobile photographer.
Cameras
The camera setup is the big thing to look at if you're considering a Pro phone. All phones get the Ultra Wide f/2.4 and Wide f/1.6 cameras but the Pros get an additional Telephoto lens. The 12 Pro's telephoto camera has a f/2.0 52mm equivalent lens but the iPhone 12 Pro Max gets a f/2.2 62mm equivalent.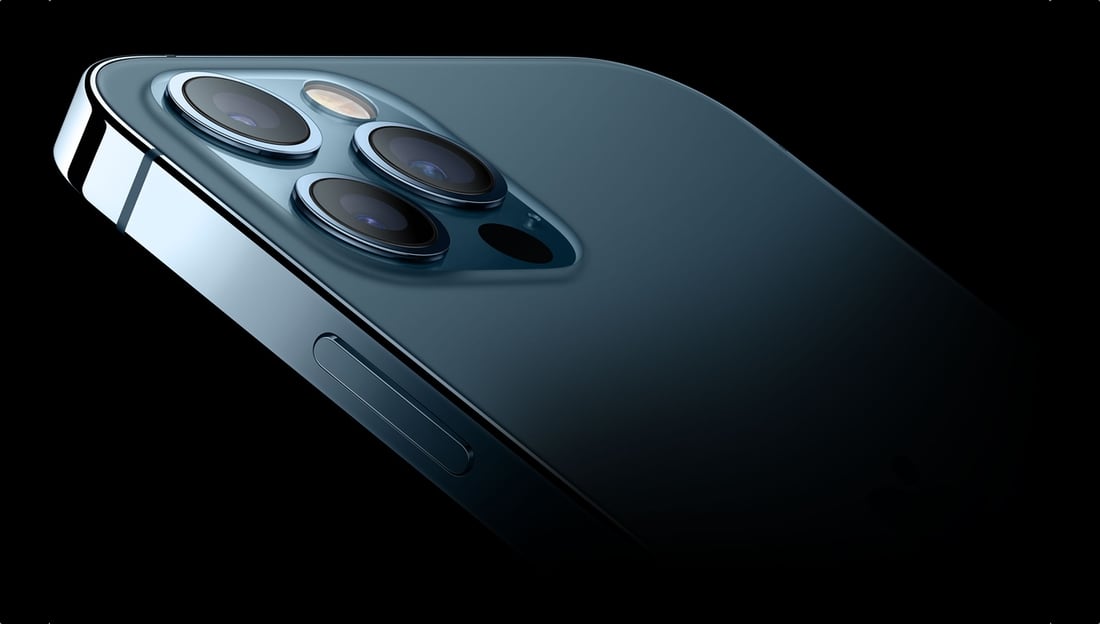 it's worth mentioning that the Wide camera on the Pro Max has a bigger sensor and the stabilisation happens at the sensor instead of in the lens. Both thanks to the extra space inside given the only other internal difference is going to be the battery.
LiDAR comes to the iPhone, but only the Pro models. Apple have commented on AR before and have ARKit for developers so I would have thought it made sense for all models to get the feature.
Back to the size of the phones, the 12 and 12 Pro are both already around the size of the Plus-sized Touch ID iPhone so they're not exactly small. I find my iPhone 8 Plus is a good size but very tough to use one handed. The 12 Mini has a similarly sized screen, but in a noticeably smaller package.
To me, the iPhone 12 Mini hits a sweet spot for size and price, but that's only because these phones are far more expensive than they've ever been. Having said that, If photography is important to you then the Pro Max will give you the best results, but I don't think anyone is going to sniff at what the iPhone 12 and iPhone 12 Mini will be able to produce.
I'm holding out for Austin Mann's review to see how good the cameras actually are.
The Environment
While I'm totally on board with manufacturers leaving chargers out of the box I didn't know the iPhone 11 shipped with a USB C charger. To drop them after only including them for a year and then include USB C to Lightning cable in the box is a little odd.
You can of course use one of your older cables or purchase a charger should you need one, but it could have been handled better. USB C isn't new, so why weren't they included for the last 2 or 3 generations of iPhones?
MagSafe
I still have a MagSafe MacBook Pro and the feature is invaluable. It's priceless. You cannot understate how important it is.
For Apple to revive the name, it would need to be for something special and I think they've found that thing. It won't save your phone if someone trips over a wire, but it will certainly make 'wireless' charging far more reliable and using a MagSafe charger will now charge at twice the speed (15W).
The new cases actually cover the bottoms of the iPhones for the first time. John Gruber:
The future is clearly not iPhones with USB-C ports instead of Lightning, but iPhones with no ports at all, like Apple Watch.
I'd agree with that, and funnily enough I only recently found out that wireless charging works even when the device is dead. It was just that it's slow, it never seemed to work but leave it for long enough and you'll get there. Syncing is already possible over WiFI so this completes the set.
Impressions & reviews
I recommend reading through John Gruber's initial impressions that I linked to above. There were also some good first impression videos after the virtual keynote:
I'll post up reviews as they come through.
Update
As the first unboxing and first look videos come through, MagSafe really isn't getting the love I expected it to. It doesn't seem to be very strong, at least not strong enough to hold the wallet attachment in place as your phone goes into your pocket, as demonstrated by MKBHD:
There's a lot to catch up on, but The Verge had two good videos, one on the iPhone 12 and another on the iPhone 12 Pro and as ever, John Gruber has had a good look too.
I've still got reviews by Austin Mann and Rene Ritchie to get through and I'm hoping iPhonedo will have one too once the phones are available.
Austin Mann's review of the iPhone 12 Pro (not the Max) is very good. I actually was expecting his review either to come a bit later in line with the release of the Max model but it doesn't sound like he has access to that... if he does a second review to cover sensor stabilisation, I'll be sure to post it here. For now, enjoy this 30second night mode exposure he took:
Update
Like I said, it's odd that Apple dropped the charger from the iPhone 12 after only shipping an USB C charger in the box for one generation. It would have made more sense to move to USB C sooner or to include the charging brick for longer so that this could be viewed entirely as an environmental decision. Right now it looks like a move that's tied more to keeping their margins nice and healthy. Matt Birchler has a great take on it.