Boy was I wrong! I really didn't expect to see such a big advantage over the competition so early on.
In my defence, it's been more than 15 years since I last took any interesting in clock speeds, core counts or the performance of a CPU.
Of course it was a no brainier for Apple given their track record with creating custom CPUs and GPUs for their mobile devices, but given that PCs are likely to be more taxing I didn't really think it would make that much of a difference.
My take in it was that an A14X chip would take the iPad Pro to another level. Really turn it into a powerhouse and actually give some weight to the argument that it could actually be a laptop replacement, if not a killer. I fully expected Apple to match Intel's performance with better battery life at their One More Thing event while increasing battery life or perhaps they could provide better performance with the same battery life.
So what did Apple do? Well they did both! And not by a small margin either.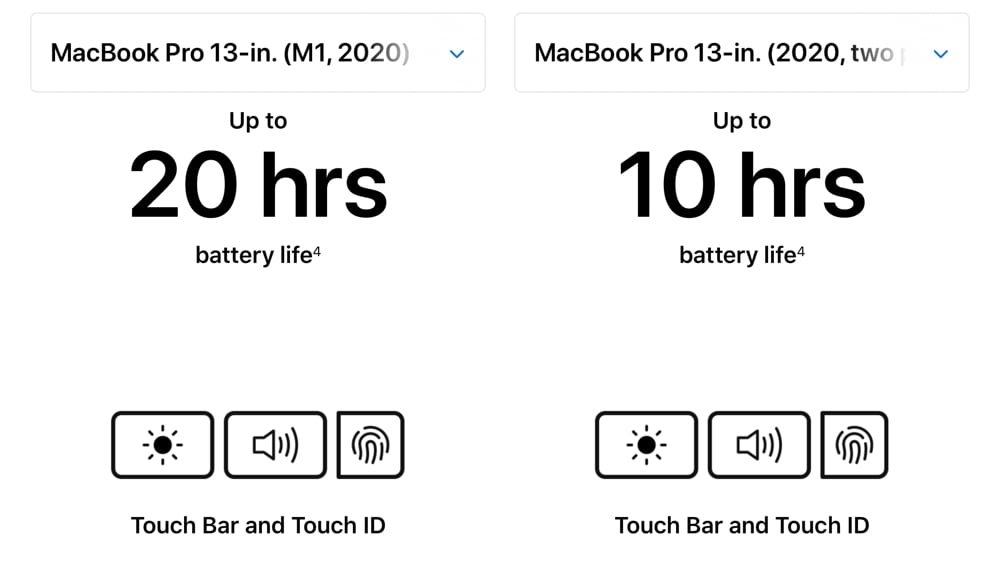 For some users, battery life will have doubled making the MacBook Air and 13" MacBook Pro truly all day devices. Here's a PDF version of the website with a few things highlighted. For the additional battery life and extra performance, there's no difference in cost when compared to the equivalent Intel 13" MacBook. You can see that it was priced at £1,299 for 8GB RAM and a 256GB SSD.
I've used both of the Intel 16" and 13" MacBook Pro's this year for work and the only disappointing feature has been the FaceTime cameras on both. It's truly awful except in the best of lighting conditions when it becomes acceptable. My personal 15" MacBook Pro from 2013 also has a HD (720) camera but seems to perform far better. To hear that the M1's processing will improve the quality of the camera is good news, but it's one of those bits that would be better to solve with hardware rather than with software. Given it was mentioned in the keynote, the improvements, I'm looking forward to hearing more about it as the reviews come out.
The keynote itself was good and they explained the architecture of the M1 really well. We already know that the SoC setup is a winning combination for Apple, but the CPU and GPU sharing memory on more powerful machines sounds... less than ideal? I guess we'll see how that pans out pretty quickly.
Spec Limitations
16GB of RAM is plenty for most people but for professionals using their devices to tackle photo, video, or audio production they are going to want more. This is just the start, though. The 'big' MacBook Pro hasn't been blessed with the M1 yet and I'm full expecting that to come with a 32GB option. You can go up to 64GB today but I'd speculate the architecture of the M1 is efficient enough to cope with half the RAM you would have previously needed.
Performance
The battery life is very impressive and the performance of the M1 is worthy of praise too. According to Apple the M1 gives you twice the performance, compared to Intel anyway, but you need just a quarter of the power to match Intel's peak performance. Really impressive stuff.
JavaScript is executed 1.7x faster in Safari, a nice upgrade for everyone given how bloated websites are these days. It's one of those things that will really benefit everyone but I actually want these sites to be punished rather than indulged! (Plug for SITEJOY!)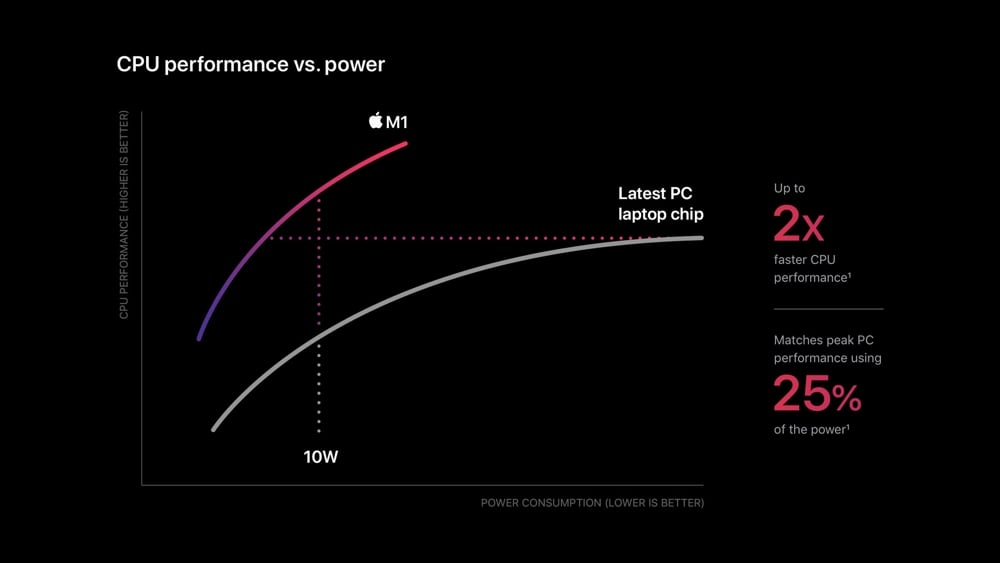 2x battery life AND 2x performance is in outstanding first step. If the Mac transitions to a yearly roadmap that will make enthusiasts happy but it feels like overkill. I've selfishly always thought the iPhone roadmap should actually switch to every two years. Of course they'd get slaughtered if that ever happened but that would genuinely reduce e-waste and we would see larger jumps between devices rather than what sometimes feel like small iterations. For Mac lineup, though I really think that an 18-24 month cycle would be about right. We'll have a better idea of what Apple's timescales are though once we see the M2, or maybe an interim M1S.
M1 powers the new MacBook Air, 13-inch MacBook Pro, and Mac mini. They join the rest of the Mac product line to form the strongest Mac lineup ever. This is the beginning of a transition to a new family of chips designed specifically for the Mac. The transition to Apple silicon will take about two years to complete, and these three systems are an amazing first step.
Having read this again on the Apple website, it would be pretty odd for Apple to start updating the models announced last week before the rest of the lineup had caught up. Unless they have different iterations (a M1X for example) for different 'types' of machines.
What about Intel?
What about them? I'm just left asking myself 'what the hell have Intel been up to?'