It's 2023, almost a decade since we were last truly in the market for a new TV and while I love technology I am not enjoying the experience of buying a new one.
Our "first" TV
Our first big TV was a 51" plasma TV from Samsung and the display itself was truly amazing. It had no issues keeping up with games and it was relatively dumb. It was just perfect. Well, the design was a little weird if I'm honest. It was 51" rather than 50" and had an inch thick border that the glass broke through.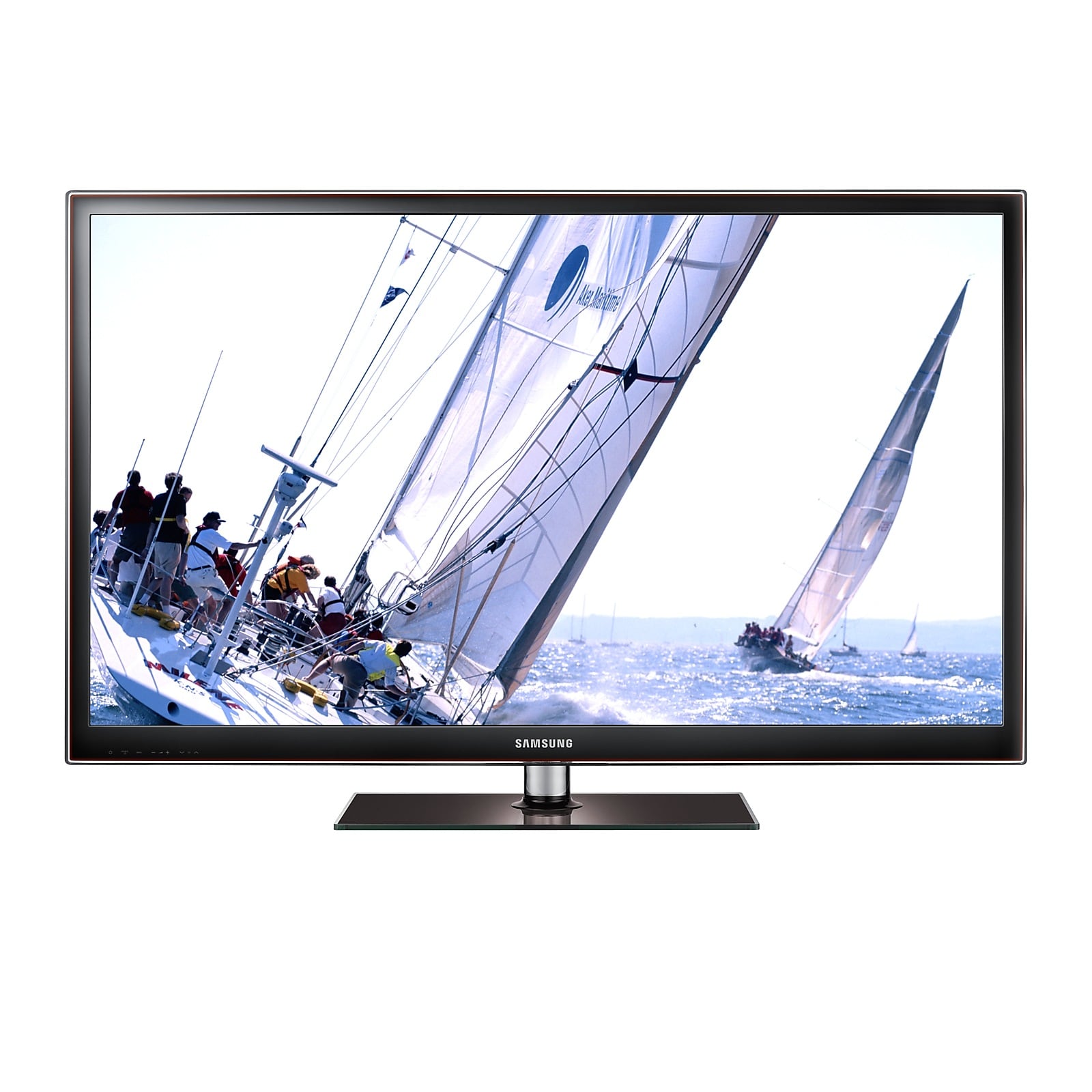 Through a Sky+HD set-top-box and an 3rd generation Apple TV we had access to pretty much all of the content we needed at the time (circa 2009). If I remember correctly, it was a 3D TV to boot. I got to watch a few football matches, Wimbledon and a number of movies on it and it was pretty good. Even the 2D-to-3D conversion it did was passable most of the time. I actually played Gran Turismo 5 on the PS3 in 3D quite a bit but often had to take a pause as that particular activity could get quite nauseating.
We do still have a 3D compatible TV at home but haven't watched anything in 3D for a long time now.
The replacement
Our Samsung plasma TV sadly developed a fault where it would just turn off. All the time. We had it repaired once about 2 years into its time with us but just as the 5 year warranty was coming to an end, the TV failed again and ultimately was written off. In a rush, we ended up buying a larger, 55" TV by Samsung but it was a LED model as plasmas had sadly died a death and were pretty much impossible to come by. OLED was the 'new' tech on the block, but we weren't in a position to be splashing that much money on a TV at the time.
We also missed the influx of HDR TVs by a month or so, so while I won't claim that we've suffered, we certainly haven't been watching the best screen we might have been able to get if we were given a bit more time in our search.
Overall, our 'smart' Samsung TV has served us well. We never got the native channel tuning working so resorted to using a basic set-top-box for viewing so-called normal TV. The apps are awful and we've had an Apple TV 4K since it was first released and that has given us a much better streaming experience.
I'm not even sure our current TV is connected to the internet and I'm not sure I'll even allow whatever we get next to do that either.
The fault
So our current TV has a random bright spot on the TV. It's like a reverse burn in.
We don't watch a single channel all the time so not sure of the cause, which continues to look like the reflection from the sunlight hitting a watch.
I've been looking for a couple of weeks now for a new model and the experience has just been awful. The acronyms, the sizes, the technology and the software comes in so many different combinations.
OLED vs LED vs QLED vs Mini-LED vs vs Neo QLED vs QNED and the list goes on... Some of these are the same but others are not.
Are you after a OLED EVO/EX, quantum dot, nano or crystal display? Some of these are also the same, but some are not.
I won't list out the OS options but in my experience they are all awful.
And don't get me started on remotes. God they are ugly... Samsung have some snazzy, minimal, remotes but they're not going to do much more than control the TV itself.
Our new TV
Ok, so we haven't quite got to that stage just yet. I think I know the make and model so it's just about getting our hands on it but I wanted to mention a few things that might help others in the future when comparing displays and what to look for.
OLED vs QLED
There are various flavours of QLED as mentioned above. There are also a couple of versions of OLED. I would say any OLED screen will out-perform any LED TV when it comes to colours and HDR. In fact I was almost swayed for a cheaper Neo QLED from Samsung and the reviews looked pretty good. Even in store it was hard to tell why you'd go for an OLED...
And then I stepped into a Sony store where I had the chance to do a real side-by-side comparison of an OLED display and a full-array LED TV. The OLED looked pretty saturated at first to my eyes when you had high contrast against a dark black sky. The next video that played showed some glittery liquids and Sony's flavour of QLED looked very good. The bright spots were very bright and the colours really nice. And then all of a sudden, the QLED TV began to look a little grey rather than black while the OLED looked fantastic.
I hadn't been expecting to be swayed, I just went in to see what the options were!
Having researched the type of display formats, I have a list of requirements I would say are worth considering in your search.
OLED provides a superior picture
HDR10+ over HDR10 if you can

Royalty free format, like HDR but backed by a consortium (as I understand it)
I still couldn't tell you if LG's HDR Pro is the same thing or not!

HDMI ARC
OLED Evo / OLED EX

Nice to have as the next-gen
I've never seen any OLED display and thought it wasn't bright enough or not enough contrast
Giving the game away a bit, the TV I'm considering has the Ambilight feature from Philips. We already have an Ambilight TV and it's really nice but features massive bezels and is a bit of a beast in general. It's also slow, so while that gave me a bit of pause, my brief test in store showed me that neither was a cause for concern anymore.
OLED TVs are expensive, but if I had my time again all the time ago I might have researched the format more and most certainly we would have gone for a HDR display.
HomeKit compatibility would have been nice, but it seems that native support has fizzled out for it. I don't think it would have been very useful as we have an Apple TV as a hub, but no harm in having more compatible devices. The Apple TV also gives us AirPlay, but it the TV has it built in, then there's no need to switch. Not sure if all of our shortlisted TVs have either yet.
Improving the TV buying experience
Embrace the internet
Every 'smart' TV should be connected to the internet so you can play a particular video from YouTube that you trust. This short video with HDR fluids was very useful in comparing the OLED display on my phone with a HDR TV for example. There was also one I used for reference from LG but wasn't as effective, in my opinion.
This would also allow you to use your own content from your phone. It was hard to confirm, but I would say that a wired Lightning to HDMI test wasn't good enough. I don't think the Lightning port/cables have enough bandwidth to make it a useful test.
Better in-store tests
It's really frustrating to go into a store and to be bombarded with so many vivid colours from so many angles. When looking at a particular TV (not connected to the internet), it was running from the same video source as the others around it. It made comparing OLED to QLED/QNED) very easy and the in-store rep was also quite helpful in showing the family how to see the difference in quality.
But these tests are very had to do. I would much rather have a blind test to help me find the best TV that really suited my visual taste. Side-by-side, hands down it's an OLED display. I would say I'm very confident in my choice given how much I miss my plasma TV, but it also made me think of a video I saw years ago where people picked the iPhone XR's lower res display over a 1080p one.
With every TV cranked up to 11, it's not easy picking the best display in a crowded space. I also found OLEDs could appear duller than others in the same space, but on closer inspection the brighter displays were certainly not as clear.
Simplify
I thought buying a car was a bad experience, but buying a TV is not better. I have no loyalty to a TV brand which makes the choice harder. Growing up, Sony (to me) seemed like the best you could get but I wouldn't hold them to the same standard now given the choices out there. With displays being manufactured by LG, seemingly for everyone to use, the different terms used don't always line up. I mentioned above that I still couldn't tell you if LG's HDR Pro was the same as HDR10+ and I really mean that... Maybe they are but I gave up looking...
From my limited tests, OLED TVs get bright enough, but I have come across TVs that have OLED EX screens that offer better performance and peak brightness if you buy the right size. I thought panels were cut on the conveyer belt so no idea why that's the case at the moment.
Sizing needs to be better too, I have no problem with variety but at smaller sizes it's all over the shop. My preference would be for a very flat and consistent 40/45/50/55/65/75" across the board. I'd actually get it if some sizes indicated if it was OLED or not. For example, 42/52/62/72" could denote OLED and 45/55/65/75" sizes would point to some LED format.
There is still a little way for us to go, I need to actually order the TV and we want to sort out our TV stand which also means I have the opportunity to rewire it all again! Oh and I had better look at getting my remote reprogrammed too.