Back in 2019, I said I can't give up Google Maps. That was true for about a year and a half afterwards when Apple introduced the look around feature to Apple Maps.
For the next year or so, with COVID-19 lockdowns in full swing, we obviously didn't venture out much but as we began to head back towards normality I began to try Apple Maps more. And then in 2022 we got our first CarPlay compatible car and it's been Apple Maps all the way. On mobile at least.
So for me at least, the answer is yes. You can rely on Apple Maps, and it's actually quite good.
I do still end up in Google Maps for journey planning on desktop, mainly because I constantly forget there's an Apple Maps app for macOS!
But when I'm on the go, I head to Apple Maps first. There are gripes I'll get on to, but for the most part it's much clearer to read to me. Google Maps feels awfully busy now in comparison. It's killer feature was Street View (it's coverage is better to be fair), but it's no longer a Google exclusive.
Apple Maps gripes
From its initial release, Apple Maps has improved massively now that Flyover isn't it's only stand out feature. Having said that, there are some issues I have with Apple Maps.
Map types
If you want transit info, you pick the transit layer. If you want to explore, then you pick the explore layer. But these are all separate. I can't explore bus or train stops in explore mode for example, which seems insane. There is a workaround for stops you mark as favourites, but if you're out and about that's not a viable work around.
Japanese names for Italian places
We recently visited Rome, but when preparing our itinerary I found a lot of places were tagged with their names in Japanese. I've submitted a load of corrections which now appear as they should on the map for me after selecting the item, but not before and not in the guides they're added to so I don't know if these are permanent.
Not sure what the problem is here, whether it's bad source data or something else at play but it could really do with being fixed.
Collaborating missing for Guides
On our last visit to Rome over a decade ago, I created maps in Google Maps and shared them. Even that would be useful, but some collaboration features where others could contribute or maybe even vote/comment on additions would be really nice to see.
Apple Watch directions
I last used directions on the Apple Watch years ago. It was fine, but battery life suffered and I just gave up. Now though, it's very good except the screen turns off way too quickly.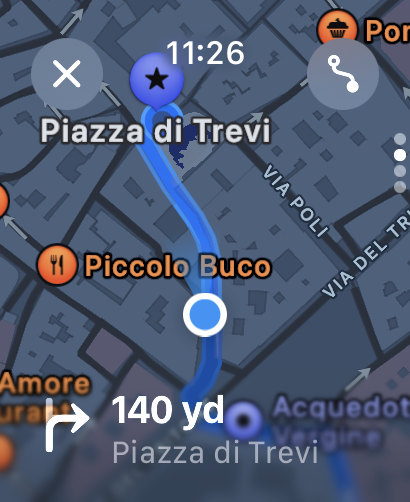 If you're looking at your watch while you find our orientation or have multiple steps in quick succession then the screen not staying on for long enough can become a problem.
There really should be a separate setting just for Maps (or for individual apps) where you can override the default. I have submitted this feedback to Apple, but not expecting it to change any time soon as I believe it's always worked this way.