As much as I wanted to cover Apple's WWDC keynote last week, something more important came up. In a way, it worked out well because it's given me a lot of time to reflect on the event as there was a lot that Apple covered for all of it's platforms as well as new hardware. If there's something you're really interested in, feel free to jump to the right section:
Apple TV & tvOS
The home screen gets a re-design but more importantly tvOS will feature multi-user support giving everyone their own Up Next list and recommendations. tvOS also gets it's own Control Centre which is how you'll switch between profiles.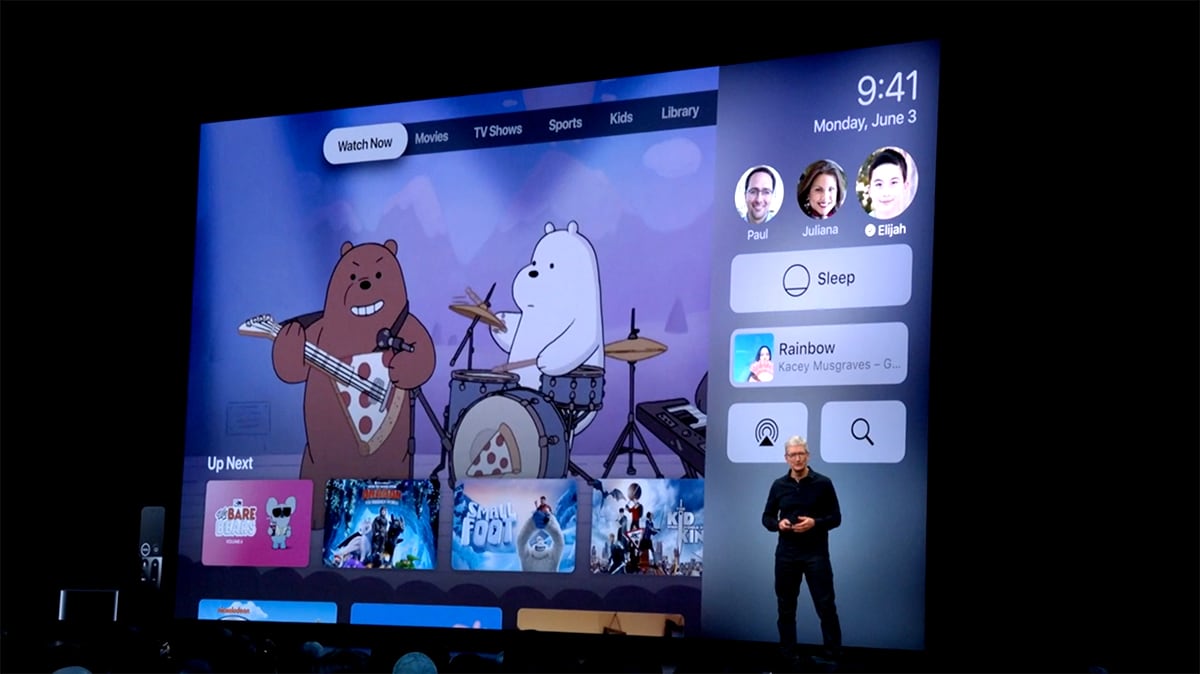 It looks like the Apple TV Control Centre will have a few shortcuts for putting It to sleep and enabling AirPlay too.
Apple collaborated with the BBC and there will be new undersea screensavers shot in 4K HDR. Tim Cook used the tvOS portion of the keynote to show Apple Music's lyrics that will highlight in real time and to announce that game controller support is extending to support Xbox One S and Playstation Dual Shock 4 controllers which will only make gaming through Apple Arcade more compelling.
Apple Watch & watchOS
New faces and straps are a given now, they're all very bold this year but what struck me is that one of them re-introduces support for the digital crown. I really miss being able to scroll through my activity rings and see upcoming calendar appointments so this is a welcome return but looks like it might just be for selected watch faces.
Hourly chimes seems like an annoying feature, but they're here. More useful is a calculator app (how the hell was this not already a default app?!). I saw iPhonedo also commented on the lack of calculator app on the iPad in his quick look at iOS13.
The App Store also comes to the Apple Watch so no more need for companion apps that exist just to offer an Apple Watch interface. Audio streaming will now be possible so you can listen to podcasts or live audio on the go, not just Apple Music.

Activity Trends will show your progress over the previous 90 days compared to the last 365 and will coach you to get back up to the same level should you be waning.
The Apple Watch will help to protect your hearing by detecting when the sounds around you are too loud. The last feature they announced is Cycle Tracking. Something you could do manually within the Health app before, but now it's something that will be available on the Apple Watch and you can get notifications for when your periods will begin and it can also help you find your fertility window. The nice thing about Cycle Tracking is that you'll be able to track through the Health app on your phone without a watch.
The Health app in general has had an overhaul, giving you more relevant information up front. It already had some nice charts but now it looks like it will get you to your information a lot quicker and hopefully in a more meaningful way.
iPhone, AirPods & iOS
Apps will be smaller in size and launch faster, a welcome improvement but what's still missing is a nuke option for apps that cache content too aggressively. Twitter and Facebook, I'm looking at you.
Photos
The Photos app gets another update and goes back up to 4 tabs from 3. More importantly, there are updated edit controls and editing comes to video allowing you to rotate, apply filters and effects.
Using machine learning, the app will now filter out duplicates, screenshots and documents and will better organise photos. A nice improvement is the ability to pinch to zoom instead of having to tap your way down. Videos and Live Photos play while scrolling and the new tilled view looks really nice.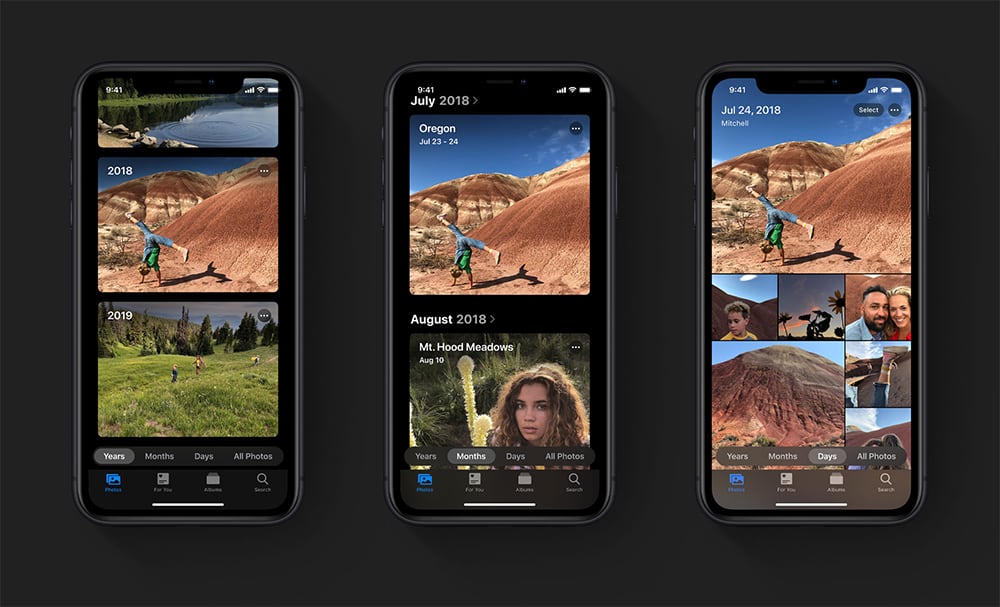 The 'years' tab is pretty interesting, it will show you things that are relevant to now. The example on stage was visiting WWDC every year, the photos related to the time of year and resurfaced old WWDC photos. I can imagine scrolling through this interface on a birthday would be really fun. The same updates come to the macOS version too.
Dark Mode
I make use of Twitter's auto-switch to dark mode already, so I get why this is a nice feature to have, but it's not one that was anywhere near the top of my wish list. I don't use it on macOS at all but almost every rumour and concept features dark mode so it's nice that we can put that one to bed now. I prefer the lighter interfaces generally, they feel more spacious.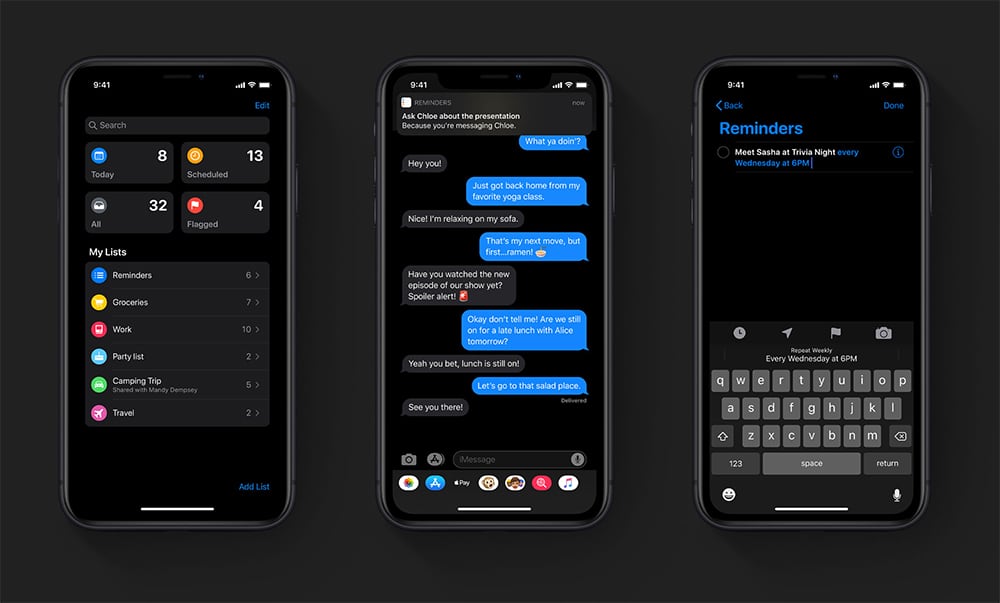 I have a few thoughts I really need to put down about OLED vs LCD/LED displays at some point, but John Gruber and Rene Ritchie covered the topic on The Talk Show just before WWDC and talked about how the energy saving from having pixels that were actually turned off to produce black had a negligible energy saving. Dark mode will certainly be more pleasing to some and perfect for use in bed when you don't want to distract someone else near by.
Reminders & Notes
I love the Reminders app (screenshot above) and it gets some much needed love. It was left in visual limbo, not really something you could considered skeuomorphic design, but not flat either. Now it looks like it's getting a much clearer identity which is great.
Notes gets a gallery view for better discovery, which is great. I hope they've fixed the bug where you get kicked out to the high-level folder view meaning additional clicks to get to where you were before.
Both apps get the same updates on macOS.
Apple Maps
Finally Apple Maps will gain its own form of street view, called Look Around. The demo was very cool, not only can you move between points, but the whole scene is in 3D and very smooth.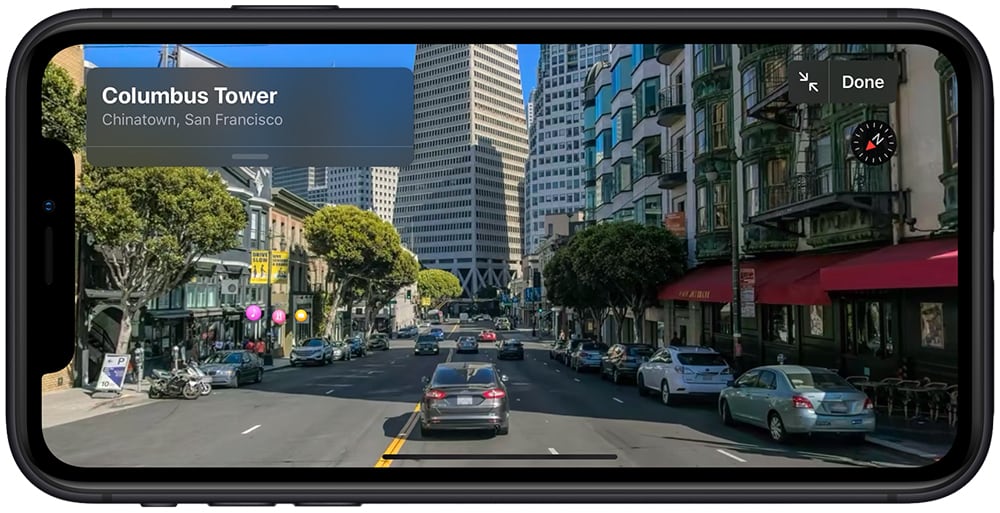 It comes to the US this year and others next year. Given my local area already has a pretty good 3D view in the app, I'm hoping the UK will be covered.
Messages + Memoji
When you send a message to someone, your profile will be shared instead of just showing the phone number without a name.
The ability to create a Memoji comes to A9 powered devices, animating characters remains a feature for FaceID devices only.
Quick path
A few years ago, Apple opened up the keyboard area with it's own app store and swipe-to-type keyboards were all the rage. Now it comes natively. Looking forward to trying it out, but it wasn't something I persevered with before.
Privacy
You can now choose to share your location with an app once and it will have to prompt you again if it needs it. Bluetooth and Wifi scanning are also being locked down... This could actually be huge, I mean why do Facebook and YouTube even need access to Bluetooth by default?
Other...
One of the slides mentioned a 'low data mode', it will be really interesting to see what this means. Amazon Music is something I use to store songs offline, but you need a data connection to verify your account. I get it, but there have been a few times where it's burned through my data allowance so if this can help to avoid those scenarios, that will be great.
The volume control no longer takes over the screen. It appears to the side then shrinks to a smaller size. You can also drag and adjust once it's appeared which is a nice touch.
There have also been some battery charging optimisation options introduced, which look like they'll limit battery charging up to 80% at the times of day when you're unlikely to use your phone much. I'm guessing this is done by analyzing your usage over time.
iPad, Pencil & iPadOS
Widgets can now be pinned to the home screen, although they didn't show what happens when you swipe between pages. Is it just on the first page? Is there still a page zero?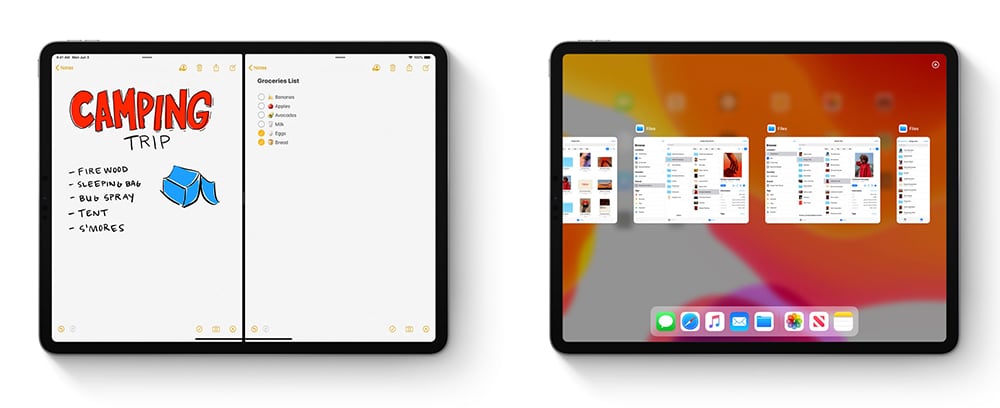 Split view has been drastically improved now, an app like Notes can have multiple instances, and because you have spaces, they can be against multiple apps. You could have a space with Keynote + Notes and another with Google Docs + Notes. Depending on the width, you can also invoke different layouts. Mail, for example, will have a two column layout when split 50/50 but drag the Mail side to be wider and you'll get the three column layout.
You can see Craig Federighi's demo at the 1:05 mark of the keynote.
File management
As well as USB support, something highlighted by every review for the second generation iPad Pro, you'll also be able to connect to file servers and you'll also be able to import from tethered devices. The use case highlighted in those reviews was the one used on stage, import from your camera into Adobe Lightroom.
You'll also be able to perform common actions on files, like rotating images without having to open them up first.
Pencil
A very nice software bump for the actual Pencil, latency has been reduced from 20ms to 9ms using algorithms to predict where you're going.
The pallet has been improved, can be dragged and docked on any side and will be available as part of PencilKit so any app can offer the functionality.
Screenshots are much improved too, drag from the bottom left corner with your pencil and you get a screenshot you can markup straight away but it also captures the entire document. That's a really nice feature, especially for someone like me that works on long form web sites.
Safari
Safari for iPad will now identify as a desktop interface, not mobile. This is actually a huge deal for users of web apps but as a web developer that's worked on truly responsive design it's been an easy option for web developers to take by offering the mobile experience on the iPad.
Gestures
I had no idea until this week that you could shake to undo on your iPad. I've used the feature on my phone but really didn't know it was supported by it's bigger brother. What a crazy feature... But iPadOS brings new gestures to deal with content manipulation.
Using three fingers, pinch to copy or pinch twice to cut, then spread three fingers to paste. Holding three fingers on the display will bring up a menu with these options and swiping left will undo the last action. Swiping right will redo. Lastly, the Quick Path keyboard comes to the iPad and is both small and moveable so you can place it wherever you like.
Navigating is also going to be a bit easier as you can grab the scroll bar to move up and down (please bring this to iOS!) and you'll also be able to drag the cursor to the right position and hold and drag to select text.
The Verge had a great video on how these gestures work.
AirPods, HomePod & CarPlay
AirPods
A small but useful update comes to the AirPods bringing two nice featured. AirPods can now announce messages as they arrive and allow you to reply with having to say 'Hey, Siri' first. You'll also be able to share audio, the modern day equivalent to sharing your earbuds.
HomePod
The HomePod gets a bit of love too, you can now hand off audio (phone calls, music & podcasts) from your phone when you get home and it can now recognize who is talking to it to personalise the response. It's not just limited to calendar events either, it will tailor music too.
CarPlay
The CarPlay dashboard gets a redesign brining maps and music side by side. There's a new calendar app and when you're using Siri won't take over the display anymore. Siri will also now work with third party apps like Waze.

Siri
Siri's voice has been updated to be driven by Neural TTS, making it sound more natural. All your Siri shortcuts will now appear in the Shortcuts app and will proactively suggest automations based on your habits. Over the past year I've only seen Siri suggest that I run an existing shortcut twice. It will be interesting to see what kind of habits it will suggest for me to automate.
HomeKit
There wasn't much on HomeKit or the Home app itself, but there have been quite a few updates to the interface which should make it more bearable to use.
More importantly, here's what they did talk about:
HomeKit Secure Video
Footage from compatible cameras will be processed in your house then sent, encrypted to iCloud. You need to have a 200Gb plan to be able to make use of this feature, although the footage does not count towards your storage. If you have the 2Tb iCloud plan, you can support up to 5 cameras.
It will be interesting to see how well it handles the footage through machine learning as it's all on device. Apple have said the footage will not be readable by them (Ring for example have full access), so how well it improves over time and how it performs in a year or two will be interesting to see.
10 day storage for 200Gb iCloud accounts and up to 5 cameras on 2Gb plans. Apple really need to address the pricing for iCloud.
Logitech are one of the manufacturers mentioned during the keynote that will be support this new functionality, hopefully they roll it out to existing devices as we have a Logi Circle 2 that we love and we're using as part of our home security and home automation.
Routers
HomeKit routers is now a thing, allowing you to firewall off accessories from the rest of the network. Really nice idea, but I was surprised to see Eero on the list following their Amazon acquisition.
Mac & macOS Catalina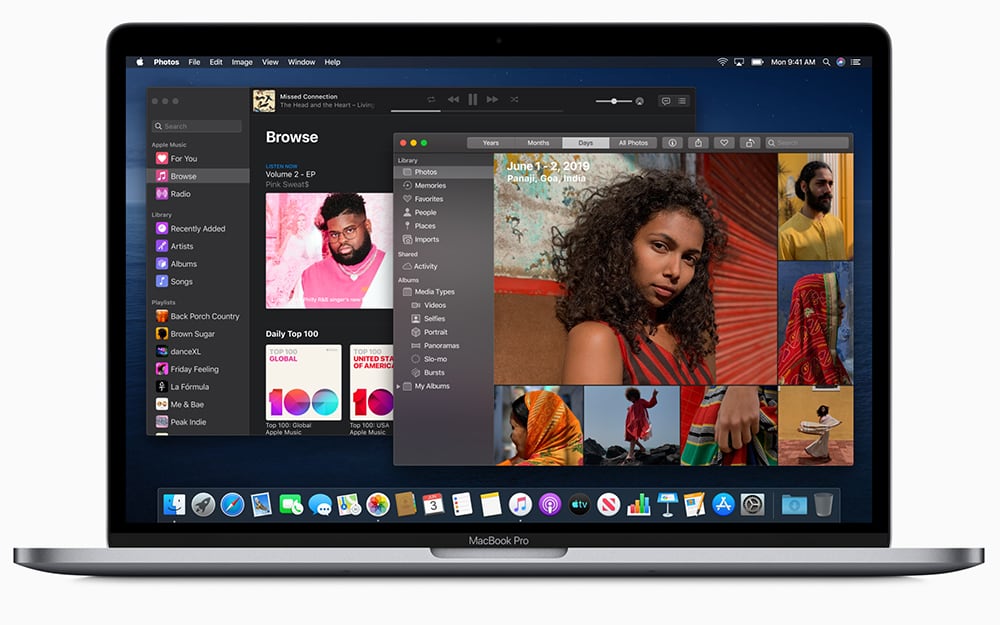 iTunes replaced with Music, Podcasts & Apple TV for the Mac
Craig Federighi joked that Calendar, Mail and Safari could come to iTunes but the reality is that the app is already bloated.
With Catalina comes three new apps; one for Music, one for Podcasts and another for Apple TV (which was announced earlier this year). These new apps will be more focused and faster, and Music gets an added bonus by moving device syncing to Finder.
The Podcasts app will have the same features as the iOS app and content will sync across devices. I don't remember the last time I listened to a podcast at home, but for those that do this will be useful. You'll be able to search by the words spoken in a podcast too, thanks to machine learning. You can already search by lyrics in Apple Music, but they're usually there already, this is literally your device listening and transcribing for searching.
Sidecar
You'll be able to use your iPad as a second display thanks to the Sidebar feature. This is something third party apps enabled a while ago, but it comes natively to the Mac now. You'll be able to use the iPad as a second input too with Apple Pencil support over both a wired and wireless connection AND you can bring the TouchBar to non-TouchBar Macs.
Accessibility
A nice bump for both the Mac and iOS who both get voice control. Check out the accessibility video from the keynote that showed what it offers.
Find My
Apple have now combined the Find My iPhone and Find My Friends in to one and improved it massively for those times that matter most. Offline devices will now submit an encrypted and anonymous beacon to nearby iOS devices to help you locate them even when they're off the grid.
If you have a T2 equipped Mac (TouchBar & TouchID), activation lock will mean no-one can unlock the device until the owner has entered their iCloud details.
ScreenTime
After a year on iOS, ScreenTime comes to the Mac and you'll be able to enforce limits across devices.
XCode, Swift & new developer kits
Now, to put the developer in World Wide Developer Conference!
Project Catalyst & SwiftUI
Project Catalyst is a big deal, it will allow developers to work on one app that works across iPhone, the iPad and Mac. With reductions in file size too, this is all really impressive. Federighi talked about how developers can mix different languages and concepts in an app (just not in the same view) so really, developers have the best of all worlds.
Twitter is coming back to the app: quote: We had Twitter for Mac running — including native Mac features — in just days. Now one team can efficiently manage Twitter for iPhone, iPad and Mac.
Twitter for the Mac lagged behind it's mobile counterparts for ages, so to see it come back and for it to share it's foundations will hopefully be a good sign of things to come from not only Twitter but other developers and products too.
While Project Catalyst allows porting of existing apps SwiftUI allows you to build apps for all platforms at once. There was a demo of a simple list based app and they took the number of lines down from hundreds to less than 20. Apple said you'll be able to build better apps with less code and it certainly seems feasible. You'll be able to preview as you write (like Swift Playgrounds) and SwiftUI will work on all platforms from the Apple Watch up to the Mac.
ARKit
AR on the iPhone has evolved this year to offer not only improvements to ARKit itself, but there's also RealityKit that can detect people and place objects behind them (people occlusion). There was a very long demo involving Minecraft which I pretty much skipped over, but you can see the benefits. AR photos are really fun in an app like Pokémon Go so it will be fun to add that little bit more realism to them. Motion capture also comes to ARKit, allowing you to track the movements of a person and replicate with a model.
RealityComposer will allow you to compose scenes on device and animate them too. No real demo, but it looks useful for anyone dealing with AR content. There will be a library of objects and animations which can all be edited and animated on device.
Mac Pro & Pro Display XDR
The Mac Pro ditches the trash can design and goes back to its roots by looking like a cheese grater again. It may not be pretty, but it's far more functional. The Pro Display XDR shares it's cheese grater design but while not exactly beautiful it's entirely functional allowing both the breathe.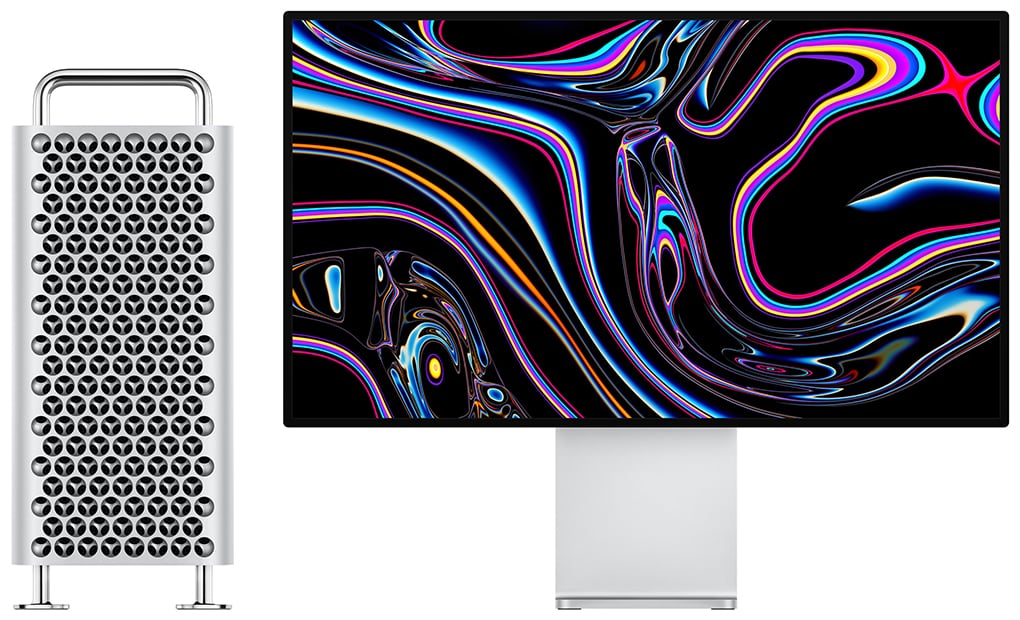 The new Mac Pro
The new Mac Pro features stainless steel handles and optional wheels for moving it about and there's also rack deployment option. It's been built to modular and flexible, much like the G5 model and has some serious performance credentials:
You can spec up to 28 Intel Xeon cores and fit up to 1.5TB of RAM. Yes, one-point-five TERABYTES. There are 8 PCI expansion slots and you can run 4 GPUs with 128GB of memory.
All of this is driven by 300W of power and the fun doesn't even end there. There's a new module called the Afterburner which will allow you to work on three 8K or twelve 4K video streams at once.
Apple claim it is quieter than the iMac Pro under normal load too, which is impressive given its huge fans which you'd expect to be noisy. T2 comes to the Mac Pro for the first time and you'll be able to fit upto 4TB of storage
The Mac Pro starts at $5999 and if you want to know what this would look like in your office, whether you can afford it or not? Check out the design portion of the Mac Pro website on iOS for an AR model you can position wherever you like.
Pro Display XDR
A beautiful 6K Retina screen with a gloss display, it's also available as a matte option where Apple have etched the glass to reduce glare. Both versions offer a super wide viewing angle, brightness of and 1000 nits (1600 at peak) and a 1,000,000:1 contrast ratio.
Apple claimed that competitors could only show their peak brightness for seconds but the Pro Display XDR will offer it's 1000 nits of brightness continuously thanks to it's rear design.
The Mac Pro will support up to 6 of these displays, giving you 120 million pixels and you'll be able to turn it sideways for portrait mode support.
The display stats at $4999 for the regular glass, rising to $5999 for the nano texture (matte) model. Surprisingly, the stand it comes with will cost an additional $999 but there's a cheaper VESA mount for $199. This seemed to be controversial when announced, even during the keynote. I don't think it was the reaction Apple expected, but Marques Brownlee had a good take on how it went down:
View on twitter
Apple Sign In
Apple are looking to bring privacy as standard to all app logins, giving you the opportunity to use apps without being tracked. I love this, and what makes it even better is that it will be available on all Apple platforms including the web.
Choose what you share, share your email address or share a random address which you can disable at any time if you get fed up with the apps. Great implementation, I just hope app developers take them up on it. It sounds like it will be a requirement for apps that allow social media logins, but we'll see how that turns out later this year.
Other things from WWDC
Following Apple's March event where they announced Apple TV+, a trailer for an Apple Original For All Mankind kicked things off.
Media coverage
It's taken a while to get here and this is the only additional coverage I've had the chance to see so far. As I come across more I'll update the article.
Daring Fireball / The Talk Show Live From WWDC 2019:
MKBHD's top 5 features of iOS13:
AppleInsider
AppleInsider have put together some videos covering the changes coming to CarPlay and the Apple Watch this year. The former is a really good overview and it looks like the updates to CarPlay are really good.
Update
9to5Mac
A pretty good overview of over 200 features and changes coming to the iPhone and iPad this autumn.