While it's a key safety feature, interacting with your phone via Siri while driving can be really frustrating. With just a few tweaks, I think there are better ways to enable us to perform quick actions.
Hey, Siri... directions to...
This is a pretty frustrating command to work with for example. Siri will sometimes respond with a location it's found and it's distance. Not great when you're presented with a result that isn't relevant, misinterpreted. Because Siri doesn't offer contextual answers, based on the previous request, it means you're starting from scratch every time you interact.
I even get massively frustrated just trying to start a playlist which is hit and miss:
Hey, Siri... play my playlist 'Favourites'
Variations of the above get me this response everytime:
Sorry, I couldn't find your playlist 'My Favourites'
I mean... it's close, but come on! This is the command I've found that works around 8 out of 10 times:
Hey, Siri... play 'Favourites'
The other 2 out of 10 times, I get the previous response. For podcasts I don't even say the word play and literally ask for podcasts. Most of the time that means the last podcast I was listening to but there's always the risk that it will do whatever it wants and pick something at random.
The solution for Do Not Disturb while driving
It's simple really. The Siri interface while driving is pretty nice and simple, but very sparse. The lock screen shows media controls and a single 'notification' telling you that your phone is effectively locked. If the two were combined that would the sweet spot.
Now space is limited, so this is what I've mocked up for the screen when you don't have any media playing yet. You get the car icon to remind you you're driving, access to quickly start the last bit of music or podcast you were listening to as well as a way two navigation related options.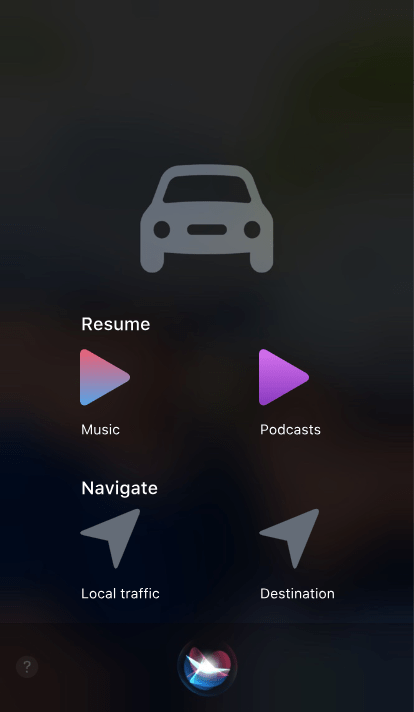 The tap targets are large, obvious and their actions unmistakable.