While I love gadgets, I'm not the type of person to be in the queue for a new iPhone or MacBook at every opportunity. I'd love to be, but Apple's software updates have been good enough to keep my iPhone 8 Plus feeling fresh. In some ways, this is a little annoying when you do buy something new as you'll have most of the features already but I am not at all disappointed in my purchase of a an iPhone 14 Pro this September.
When the iPhone X was announced, I wasn't sold on the OLED display. Every review seemed to cover how well Apple had done to shift the display from blue to neutral better than anyone else. Felt like a bit of a hack, but here we are 5 years on and the displays are something else. We have had an iPhone 12 Mini in the house for a while now and as I've been using a phone with a LCD panel, there's a noticeable difference.
I also see a lot of people longing for Touch ID to make it's return. I've had an iPad Mini for a year now and I'm used to the gestures but had to straddle between two paradigms. I thought I would miss Touch ID because paying with Face ID looked painful but it's not at all.
Some thoughts on the iPhone 14 Pro
Always on display
Let's start with the always on display. It is fantastic. I was sure it would drain the battery no matter how low the refresh rate but Sunday was the first time I used my phone 'normally' and I had used just over 40% by 9pm, after 14 hours of use.
It is still going to take time to get used to, the dimming when locked is enough for the background to show but not quite enough for you to always to recognise that it's off. I have my favourite photo of my children on my lock screen and I love how the screen works but I do find myself double tacking to see if it's locked or not.
It's a bit like having a low-power digital photo frame that follows you around and every time I look at my phone on the table there's this great photo staring back at me. I really love this feature!
There are some quirks with custom screens, if you add a widget then the depth effect is removed. This is not obvious at all in my opinion. I went in and out of the customisation screen hoping it was just a photo that hadn't been processed yet. Then I stumbled across the same photo but with depth effect enabled. It took a few more minutes for it to click. Looking at Apple's product photography it's clear that widgets bring everything to the front but it would be good for some more information when configuring.
I have had the phone for less than three days so the photos I have to play with that were taken in Portrait Mode are old. We're talking 5 year old hardware and I don't think any of the software around it moved on unless you brought a new phone. The edges are rough so the effect can appear a little too pronounced. Even with a black and white filter, the image has harsher highlights. I think this is down to the depth effect, the photo looked way more natural when this was disabled but after a few hours with the photo of my choice, I'm fine with how it works. Maybe I'll get a new favourite photo that will take it's place.
One last thing on the display, this all seems to just work with any photos, including ones taken on an DSLR that I have on my phone. You're not limited to Portrait Mode photos. You can attempt to create beautiful lock screens with any photo on your device.
Battery life
I've really missed good battery life. 18 months of a battery that is at 82% capacity or less has been annoying. I've been charging multiple times a day, on every journey and at every opportunity. My life didn't revolve around a lightning cable but it was close to being that way. The battery on the iPhone 14 Pro is even better than I expected. I've been battling with photo duplication and trying to clear them out for the past 2 and a half days so I've used the phone in intensive bursts and it's still going strong. I did plough through 100% of the battery yesterday but I had 6,000 known duplicates to get through so not surprised it took it's toll.
Apple have done a great job of optimising battery charging so I'm hoping the capacity last longer than the last one did.
iPhone 14 Pro Cameras
The cameras are phenomenal, a massive leap from my iPhone 8 Plus. They're much larger too, I was very surprised when I was unboxing the phone. For this reason only, I kind of wish I'd gone for Space Black over Silver.
I really like the Macro feature and Night Mode is very impressive if you can hold still enough.
Having 3 physical lenses, but effectively 4 prime lenses to hand is really nice. I think 0.5x, 1x, 2.5x, 5x would have been the perfect options, but 0.5x, 1x, 2x, 3x are more than good enough. I will need some more time to shoot with all 4 available focal lengths and see what it allows. I'm used to having and using just 1x and 2x so really glad I've got double the options for composing shots.
15x digital zoom is pretty interesting too, although digital zoom is something I've always avoided as much as I can. From a quick look, it's actually pretty clear in comparison to my older phones but not sure how useful it will be to me.
Dynamic Island
It certainly has personality, but not been of much use to me yet. I do think it's a great way to hide your hardware's limitation and I think Live Actions for sports scores will make it invaluable to me but we don't have any of that yet. I'm patiently waiting for iOS 16.1.
It does work very well for quick access to background audio and animates in fun ways for different actions but it's not a feature I've used much in the first few days. I feel like a short tap should bring the Now Playing interface to the front and a pull-down action would have been better for jumping to the app but also understand this would massively get in the way of the getting to your notifications. But then again, Control Centre is to the right of the Dynamic Island, so Notifications could be to the left and then the Dynamic Island could have been its own thing. Just a thought.
I am looking forward to the weird and wonderful things people will do with this feature.
Why go Pro?
The two reasons to go for the Pro for me were the cameras and the always on display. I think the A16 chip was also worth paying for now so that the phone will last as long as possible.
My iPhone 8 Plus had a 2x option, without image stabilisation, and it was very useful. It enabled Portrait Mode which I used a lot. Now I have that option and then some so it was a no brainer for me. The extra lens was why I went for the 8 Plus over the 8 back in 2017. I didn't really want a Plus-sized phone, only the lenses it had to offer.
I'm happy that Apple have simplified the camera set up now. 'Regular' iPhones get two lenses and the Pros get 3. The size no longer matters. Hopefully they stick to that formula for a while as it makes choices a lot easier.
Why not the iPhone 14 Pro Max?
The iPhone 14 Pro has the same cameras, making the only reason to get an iPhone 14 Pro Max the battery life and screen size. I was confident the iPhone 14 Pro would get good enough battery life for it not to be an issue and after a short amount of time I think I was right. Right now, any more battery life just isn't necassary.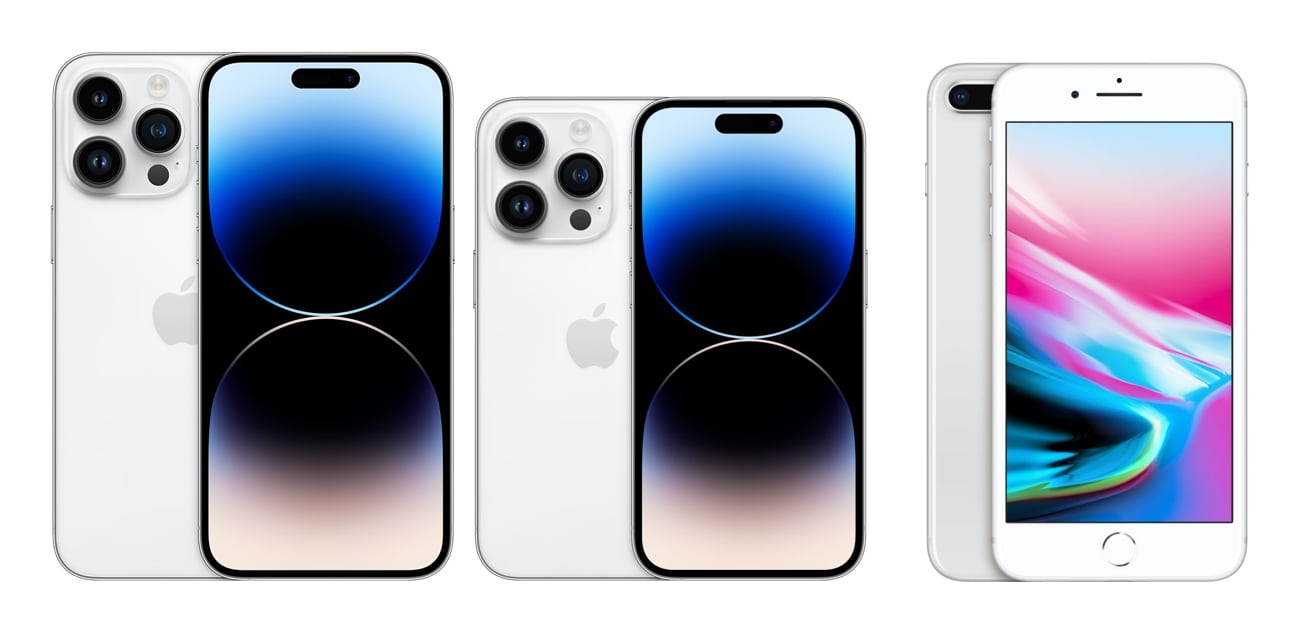 You can see that the iPhone 14 Pro is actually smaller than my iPhone 8 Plus and yet it has a bigger screen.
One more thing
One last thought, I am very surprised how round the corners are on the iPhone 14 Pro. I am used to a rectangle display and seen the iPhone X, iPhone XS and iPhone 12 Mini up close many times. I'm sure they are nowhere near as rounded. Mostly not a problem, but it's very noticeable when an interface hasn't been optimised but this is nothing new. At the very least, last year's iPhone 13 was almost as rounded, if not the same.