June rolls around and it's time for Apple's look at the year ahead in software. WWDC is an interesting event in the Apple calendar where we get a preview of what to expect when the next version of iOS rolls out ahead of each iPhone release. As ever, Apple kicked off the event with a video:
The entire WWDC 2018 Keynote is always worth a watch.
iOS 12
See the full list of iOS 12 features.
Performance, performance, performance. Not a bad goal to have, iOS 12 promises to deliver performance improvements across the board on every device that supports iOS 11. The needs of the CPU are anticipated meaning cycles start sooner and ramp down in the same amount of time.
Performance is always in the eye of the beholder and having seen the fall out from iOS 11 where devices with ageing batteries were slowed down in order to improve reliability it was important for Apple to not only do better but to communicate it will. Seeing the chart that Craig Frederighi posted, I'm not entirely sure how good the performance bump will be for those devices with older batteries. One of the issues was that batteries couldn't service the CPU with enough power quick enough. The chart showed the power was required sooner so will the performance boost be there or will reliability be compromised. September will be interesting as this change rolls out.
Here are some of the figures Apple claim we can expect, with up to:
70% faster swipe to Camera
50% faster keyboard display
2x faster app launch when under heavy load
Notifications
One of the biggest annoyances in iOS 11 is the way notifications are only shown in chronological order. They'll now be grouped and offer better management which is great to see. Probably the most appreciated feature they'll ship.
Do Not Disturb
I love Do Not Disturb, Night Shift and True Tone and to see improvements to one of them is no bad thing. Do Not Disturb will now be a lot more proactive at stopping you from being disturbed by hiding notifications while it's on. And in the morning you get to choose when you're ready to face them.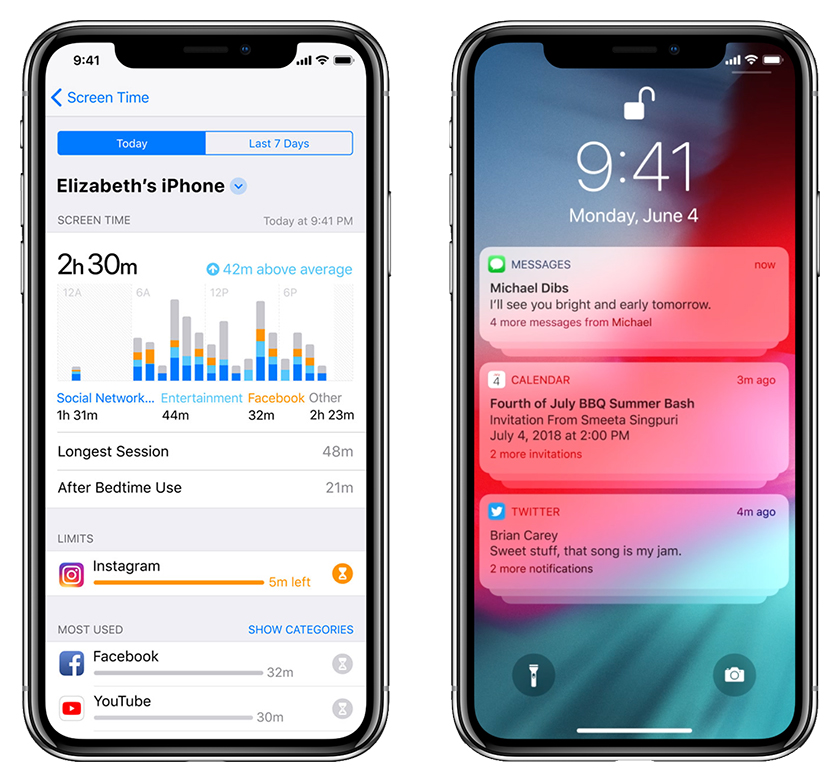 Photos
Memories was a nice addition but my biggest annoyance was being reminded of the same events with a slightly different selection or order of photos. The tab has now been renamed as 'For You' and promises intelligent sharing which will prompt recipients to share their photos of the same event with you. Memories are still there but this is another nice evolution.
Search promises to be smarter and you'll get suggestions before you even begin. I've always found multiple names to be a powerful search tool but multiple keywords should now also be supported.
Siri & Shortcuts
I'm not entirely sure what Shortcuts means for Apple's Workflow app, but it looks like it could be really powerful. Being able to assign key phrases to Siri to automate things is a fantastic addition. Siri should also learn routines which will be interesting to see.
CarPlay
Google Maps and Waze were very obviously missing from CarPlay but now that navigation apps are allowed on the platform I expect that to change quickly. I don't have a CarPlay compatible car but it's at the top of my list for features I want on the next car we buy.
Screen Time
With a lot of noise about how much time we all spend on our phones, Apple are now rolling out Screen Time which lets you choose how long you should spend within a specific app. You'll get a reminder that your time is almost up and when the time is up you get shut out. You can override your choice but will continue to receive reminders to let you know you've outstayed your stay.
This is going to please a lot of people and I may even enable it myself on the apps I use the most to see if I spend as much time as I think I do. Being able to share the profile between your devices and through Family Sharing is a great touch.
Group FaceTime
32. Thirty two. You can now FaceTime up to 32 people in one call. Being able to call two people would have been enough, but 32 is going above and beyond and then some.
You can also add effects to videos but this could be an iPhone X only feature. I hope not, Snapchat have been able to do it for years, but Apple are not exactly known for being generous with new features.
Oh, and the 32 people applies to the Mac version of FaceTime too.
Memoji
I've seen Animoji but never been sent one by anyone I know with an iPhone X other than as a test. but Memoji I can understand. Bitmoji is a fun addition from Snapchat which works, but is a little cumbersome as a third party keyboard. Memoji won't match it feature for feature but will certainly give it a run for it's money.
macOS Mojave
macOS has seemingly had a lot less love since the arrival of the iPhone, but the last few years have seen some nice incremental improvements. And there was one real crowd pleaser...
Dark mode
One of the biggest cheers of the event was for a black themed Xcode app. I know I find working in a darker code editor more comfortable and hadn't realised Xcode didn't have that luxury. Now it does, but so does the rest of the OS. Photos has a black background when you move into edit mode, but you can now work and browse with the same dark background which a lot of photographers prefer.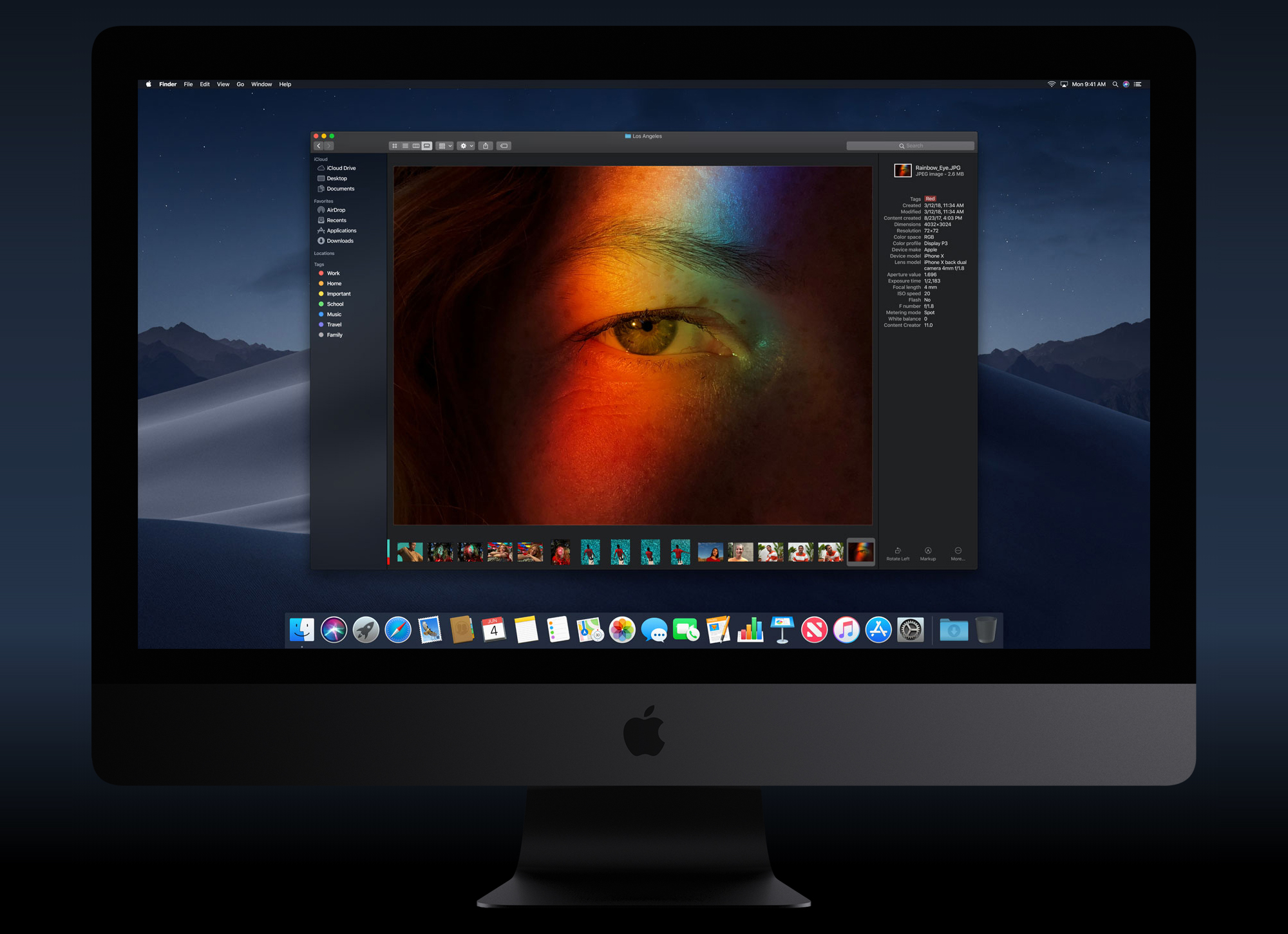 Dynamic desktop
It looks like this might be limited to the desktop backgrounds that Apple supply but they can now change throughout the day showing morning, afternoon and then evening versions of the same photo.
Continuity
Continuity now lets you share photos directly from the camera on your phone which is an awesome feature. I personally hope this is widely adopted because the amount of time I spend in the Photos app or on the web version of iCloud, just to get photos off my iPhone is pretty frustrating.
Home
The Home app comes to the Mac. I'm still new to the HomeKit / smart home world but managing your scenes and schedules is not the best experience on your phone. Looking forward to having a desktop version of the app to try it out with.
Privacy
As speculated, Apple seized the opportunity to talk about their focus on privacy. Given Facebook's troubles (and sadly their ability to get through it seemingly unscathed), seeing a big player in consumer data take a more consumer friendly approach is refreshing. The camera and microphone are both now covered by privacy which is great to see.
Additionally, Safari will now prevents tracking from shared comment boxes and like buttons by default. You can of course override this choice but you get prompted first, leaving the choice to share you data squarely with you.
'Fingerprinting' is the art of identifying your device as you move around the web. Marketing and analytics tools use this technique to track you and to ultimately advertise to you (or worse), but macOS will now only share simple system configuration and your system fonts making you look like anyone else using Mohave. Because the data is more generic it should make it harder to track you. The best bit is that this Applies to Mojave and iOS 12.
Mac App Store
A refreshed UI with focused discovery that is curated weekly. The current App Store is OK. Searching is fine, but it wasn't as good as the old iOS App Store and certainly not a patch on the current one. Sadly, the App Store on the Mac is not the one stop shop for everyone. I'd be surprised if more than 50% of the apps I use were found or updated through it.
watchOS 5
Activity Competitions looks like a fun addition, although I'm not entirely sure who I'd compete with myself. Not only can you see your friend's progress but you can challenge them over the course of 7 days to see who goes above and beyond their move goal the most.
There are new workouts, advanced running features and the Podcasts app makes it's way on to the Watch. Probably targeted at the LTE versions of the Apple Watch is the Walkie Talkie feature. Siri can also integrate with other apps on the Siri watch face and you can now raise to talk.
Probably the best update will be the improvements to notifications here too. Hopefully they'll present better than they currently do when coming from the same apps.
A close second for best update, is automatic workout detection. Having to start a work out is a step that even my old Jawbone UP could automate or apply retrospectively so nice to see this finally make it to the Apple Watch.
Notable mentions

ARKit 2 allows multiple people to experience augmented experiences
iBooks is now Apple Books
News app comes to the Mac
iOS and macOS are not merging
New aerial screensavers
Desktop stacks
Stocks rewritten for iOS
Voice Memos comes to the iPad and macOS for the first time (still no Calculator app for the iPad)

Watch the keynote

---

Updates
Here's a look at some of the post-WWDC reviews for the event, iOS and macOS.
iPhonedo
MKBHD
9t05Mac
This roundup of watchOS 5 is really good and, as I tweeted, it showcases a lot of quality of life improvements that will make living with the Apple Watch even easier than it already is: