As a fan of Football, the 1994 World Cup Final is my earliest memory of a big tournament (I remember England beating San Marino 7-1 but not qualifying for the tournament too) but the 1998 World Cup in France is the first one I really paid attention to. The 2018 World Cup came to an end yesterday and while it's been on for the last month I've been thinking about who I'd take to the finals.
I thought about it so much and I have so many memories of various World Cups, I decided to put together a squad with players from the last 7 World Cup winning teams. So here's my World Cup Winners XI. My heart played a crucial part in putting this squad together and all but one of these players played in their respective finals.
#
Name
Position
Year
Opponents
1
Barthez
GK
1998
Brazil
2
Buffon
GK
2006
France
3
Casillas
GK
2010
Netherlands

---

4
Thuram
DF
1998
Brazil
5
Cafu
DF
2002
Germany
6
Maldini
DF
2006
France
7
Cannavaro
DF
2006
France
8
Nesta
DF
2006
France
9
Zambrotta
DF
2006
France
10
Pique
DF
2010
Netherlands
11
Lahm
DF
2014
Argentina

---

12
Zidane
MF
1998
Brazil
13
Rivaldo
MF
2002
Germany
14
Pirlo
MF
2006
France
15
Totti
MF
2006
France
16
Alonso
MF
2010
Netherlands
17
Xavi
MF
2010
Netherlands
18
Iniesta
MF
2010
Netherlands

---

19
Ronaldo
FW
2002
Germany
20
Ronaldinho
FW
2002
Germany
21
Del Piero
FW
2006
France
22
Fernando Torres
FW
2010
Netherlands
23
Antoine Griezmann
FW
2018
Croatia
The Captain
It just so happens that I've picked X of the last 6 captains in my squad so it's not so straight forward picking a single person to lead the team. For me it's Fabio Cannavaro that gets the nod. A fantastic leader during the 2006 World Cup where Italy triumphed against France. Had it been my heart making the choice the honour would have fallen on ex-Roma right full back, Cafu. i still have a Brazil shirt from the final of the 2002 World Cup although it features top scorer Ronaldo's name and number.
4-4-2
Buffon
Cafu
Maldini
Nesta
Cannavaro
Alonso
Zidane
Xavi
Ronaldo
Totti
Griezmann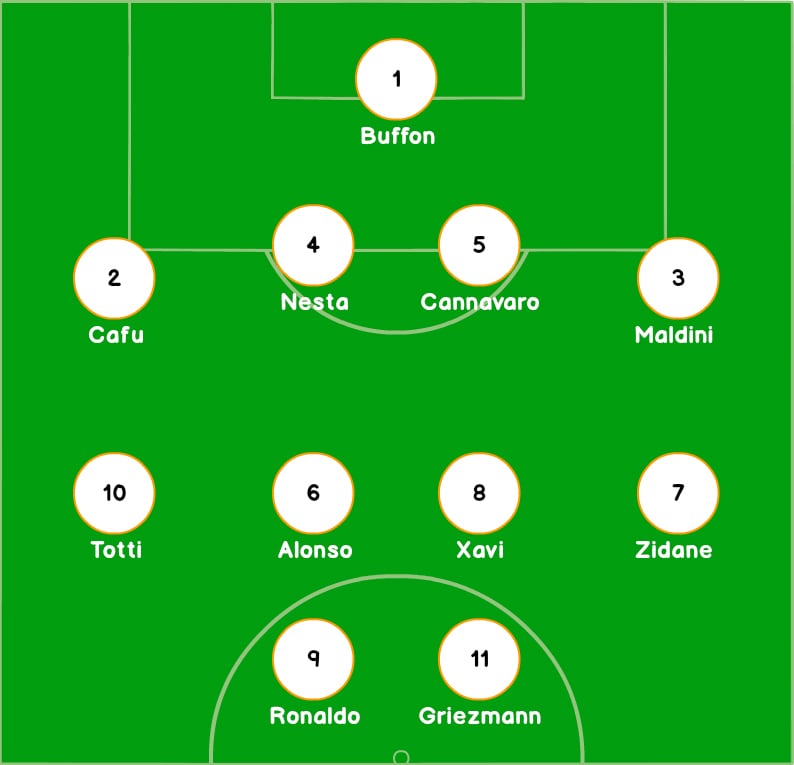 Cafu's extensive playing time in Italy and the fact he played alongside Maldini and Nesta at Milan means he's the natural choice to slot in at right back in a 4-4-2 system. The midfield is packed with creative talent to feed the front two. Griezmann just gets the nod ahead of Torres and I've stuck Zidane out on the wing giving him the freedom to come in and join the attack. Not sure how he or Totti would do as a wide players, but with Cafu (Totti's former team mate at Roma) and Maldini behind them, this side would either be a real threat or completely vulnerable down the wings... I'd take that chance though knowing Xavi and Alonso were there to help keep things in check.
5-3-2
Buffon
Cafu
Maldini
Nesta
Cannavaro
Pique
Zidane
Alonso
Ronaldo
Totti
Griezmann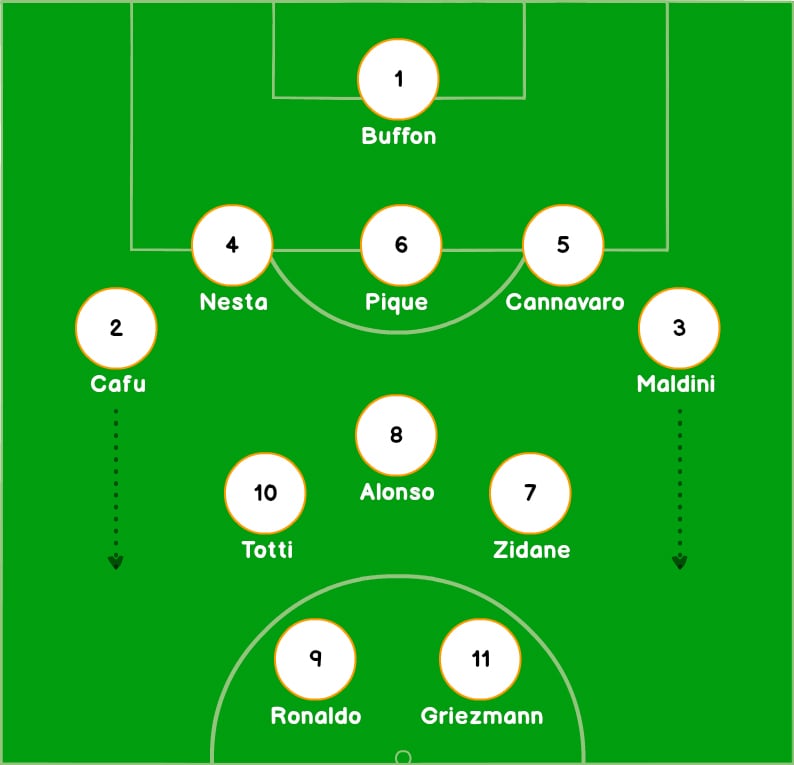 Switching to my preferred 5-3-2 formation, Xavi makes way for Pique who gives a bit of security at the back, allowing the wingers freedom to get forward and create. I put Pique in the squad ahead of Puyol because I love a defender who's so comfortable playing with the ball at his feet. Totti moves inside and I'm drooling at the prospect at what this side could do against anyone they came up against. The 5-3-2 formation was my go to in the Football Manager series of games and served me well so I'd be very confident putting this side out with little instruction other than to destroy the competition!
Who would make your squad and your starting XI? Let me know on twitter.