Widgets
The first thing to note with the new iPhone lock screen customisations is that depth effects are applied automatically, but if you decide to include a widget then this feature is disabled. Took me a while to realise that. Announced at this year's WWDC, when I look back that's exactly what the demos show, but not exactly how it was sold. At least in my mind. Anyway, now that I know that, worth pointing out. Widgets are basically not for me.
My configuration
Usual lock screen
I have a photo of my kids, from 2018 on the lock screen. It was taken in Portrait Mode on my iPhone 8 Plus and works a treat. What is most surprising to me is that your photo does not need to have been taken with Portrait Mode. As I'll demonstrate later, even photos I've imported from my DSLR work fine with depth effect applied.
Focus Modes
I'm still not entirely sure on how best to use these. I have a Focus Mode for when I'm using the camera to avoid notifications interrupting but to be honest it's becoming a nuisance and sometimes it fails to turn off if I don't exit the app correctly. I think I'll be deleting that one tonight.
I then have two others which are tied to the same block colour background (black). One is triggered by the Driving Focus Mode and has no widgets. The other is for the Sleep Focus Mode and has two widgets. One for the weather and another for jumping into the Home app to turn lights off.
I tried setting up a routine for charging, where it would display a random photo every hour but this had to be done by a shortcut and could not be limited to MagSafe charging. This caused problems in the car when it would switching to the Charging Focus Mode first and then to the Driving one. Disconnecting could work either way. Eventually you'd get back to your regular lock screen, but it wasn't seamless. So I've said goodbye to that, for now. It's a shame though, because it would be a great feature to have whenever charging on my new MagSafe charging stand.
Customising photos for your lock screen in iOS 16
Turns out you actually get a load of options to help you customise the photo for your lock screen and all without having to duplicate or destroying the photo.
I've put in some screenshots below, using a photo of Jurgen Klopp I took earlier in the year.
Normal, low key and high key options
I find that the 'normal' mode is actually pretty good, but it comes down to the photo and your taste. I experimented with the options for low and high key with darken and lighten the background respectively.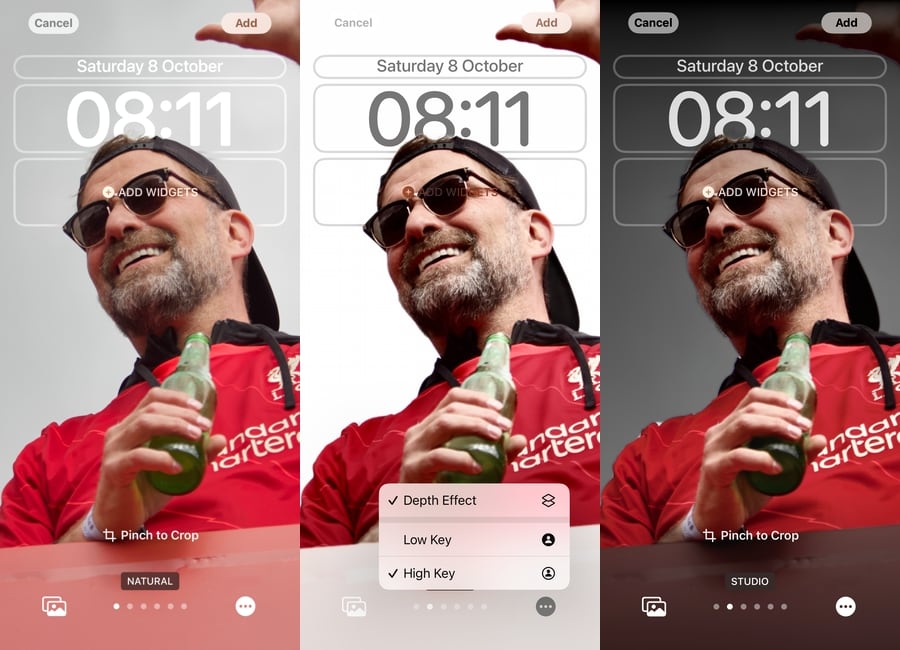 These options alone are pretty impressive to me, the photo was taken with my DSLR not on an iPhone and certainly not with anything like Portrait Mode in use.
Greyscale options
For a long time, I've had the same photo of my kids on my lock screen, but I had a separate black and white version of it to use. Now though, that can be achieved by the Black & White filter and it does a really good job. You have to choose low or high key with these filters, but I think they're needed otherwise the background can become messy and that can make it feel busy around the area where the time is show.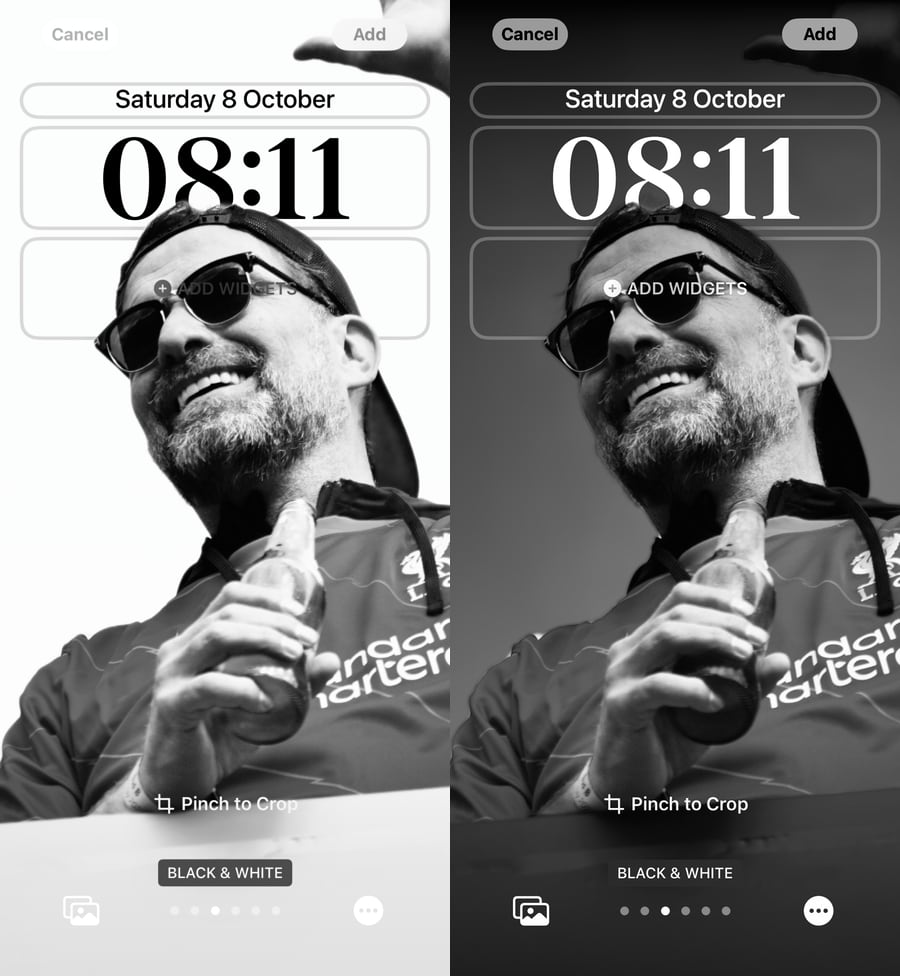 Colour Washing
You can also decide to bring some more colour to your lock screen. This is going to completely depend on the photo you choose as to how effective it is. It's not for me, although the left option below actually came out quite well.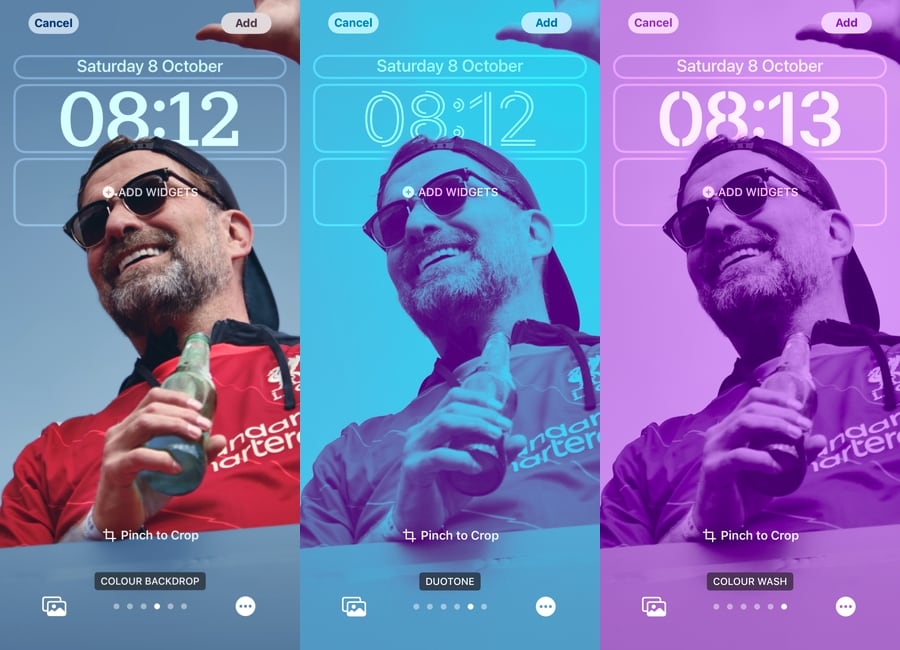 Let's start with the left, I've applied a blue tint to the photo which actually looks quite good. The default was green and looked OK, but it's a couple of taps and you can try another colour.
The middle photo uses the duotone filter, which doesn't work for me at all, but I can see that it has an affect that will appeal to some people.
On the right, we have the colour wash option with purple selected. It looks OK, but again for this photo I don't think it works as well as the greyscale options.
Ultimately it all comes down to preference and the photos you have to choose from. iOS 16 did not suggest my chosen photo to me so I had to go looking for it and I'm so happy I did as it's probably my favourite photo of the kids together. Even the above examples with Jurgen Klopp do a great job of showing what you can do with a bit of tweaking.
While the Dynamic Island is a nice feature to have, the lock screen customisations are my favourite thing in iOS 16.