That was the beautiful intro video to the 2019 iPhone event. I really enjoyed the look through all of the innovative devices Apple have created over the years. Innovation, being the theme of the day, it was bound to be an exciting event. Was it though?
TL;DR:
If you haven't got long, watch Apple's own 'Apple Event in a flash' that covers the event in just 2 minutes:
Now if you have more time to spare, let's look back at the key bits of the event.
iPhone 11 & iPhone 11 Pro
As expected, we saw three new models revealed to the world that matched the many leaks I'd seen over the past few weeks and months. The biggest differences (apart from the screen technology) between the 11 and 11 Pro came down to colours, finish and an additional camera lens. Oh and price, with the iPhone 11 dropping down to the $699 price point (the iPhone XR is still available at the new price of $599) but the Pro models match the prices of their predecessors of $999 and $1099 for the Max.
Colours
From photos, the new Midnight Green colour is my favourite on offer this year. John Gruber tweeted about how it compared to Space Grey.
Cameras
I make use of the telephoto lens on my iPhone 8 Plus as well as portrait mode, but an ultra wide lens is a great addition. Not only does it enable portrait mode in both wide and telephoto modes, it also gives way to a new camera app layout where you can see more than is being captured in the frame and the ability to recompose a photo.
The regular 11 gets wide and ultra wide, so you still get Portrait Mode so you'll have to get closer to your subjects. On Instagram, Apple's have posted a few examples of how the three modes work which I think is really informative for the casual photographers. It's important too because it's the camera that make the Pro a Pro.
You can go from photo to video mode as you're shooting by holding down and swiping which is a nice feature lifted from Snapchat.
The best demo of the day was by FiLMiC who showed simultaneous streams from all 4 cameras. Not only that, but you can choose to record from 2 of those cameras at the same time.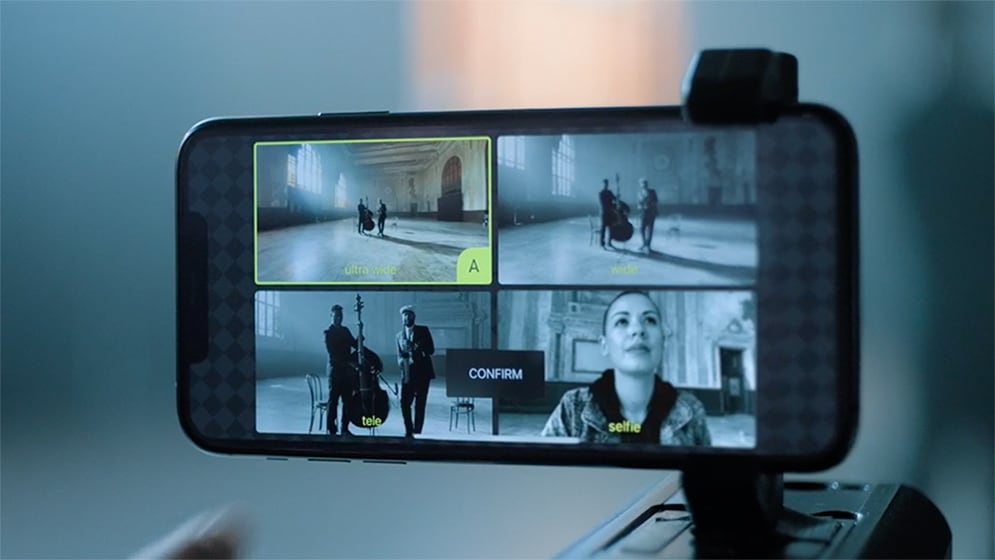 The cameras are calibrated for consistency at the factory and the active lens primes the others ready for switching. The new camera bump itself looks silly to me, I'd have preferred an enclosure that was similar to my iPhone 8 Plus, I find it more appealing than even the iPhone X models.
The front-facing cameras also got a nice bump, better quality and slow-motion for the first time.
Assuming he got a review unit, I cannot wait to see Austin Mann's review and what he captures with three lenses at his disposal. They're all prime lenses too so you have the best lens for nearly any situation.
Night mode is finally here too, long overdue when you look at Android phones but it will be interesting to see them put head to head which I'm sure is something that will come up in reviews.
Battery life
@iamdevloper nailed it.
To be fair, iPhone 11 does gets 1 hour more out of it's battery compared to the XR, but the big improvement comes to the Pro models where they get 4-5 hours more compared to the previous models. That's a serious jump. Apple claim you'll go from 15 to 20 hours of video playback on the iPhone 11 Pro Max (what a mouthful).
These kind of improvements are long overdue, perhaps software and hardware improvements aligned well this time to be able to offer an additional third of battery life, but it's something all smartphones have been crying out for.
Apple Watch Series 5
Nothing exciting to see here other than the always on display. I really do understand why this is a useful feature but better battery life would have been top of my wish list.
By dropping from a refresh rate of 60 down to just 1 hertz, your watch will now show an optimised version of your watch face that refreshes just once a second.
The beautiful ceramic version is back and there's also titanium models too. The Nike models have more faces and bands and if I was going to get a new one, I'd definitely opt for one of those over the regular Apple Watch.
Apple decided to keep the Series 3 to stick around as the cheaper alternative to the new Series 5 and dropped the price to $199 which is a fantastic price for an entry level model that isn't missing much.
7th Gen iPad (10.2")
The iPad lineup feels a little confusing to me now. Here they are in what I would class as their hierarchical order:
| iPad | Screen size | Processor | Starting Price |
| --- | --- | --- | --- |
| iPad Pro | 11" or 12.9" | A12X Bionic | $799 / $999 |
| iPad Air | 10.5" | A12 Bionic | $499 |
| iPad | 10.2" | A10 Fusion | $329 |
| iPad Mini | 7.9" | A12 Bionic | $399 |
So the new iPad, has a processor that is two years older than the others which feels a little odd. Other than being able to say that the iPad lineup now starts from $329, I don't know why it exists. Every iPad now supports the Apple Pencil but the omission of the A12 makes the iPad out of date straight away.
Apple Arcade & Apple TV+
After announcing Apple Arcade and Apple TV+ earlier this year, we finally found out what these new services will cost. Apple TV+ will set you back £4.99 ($4.99 in the US) per month and will be available from November 1st. A competitive price, but with little content at launch the value isn't there right now... probably one of the reasons why you get an entire year free if you purchase an iPhone, iPad, iPod Touch, Mac or Apple TV.
Apple Arcade has the same pricing but with over 100 titles there's far more value there. I wasn't blown away by the demos on stage, but there are some interesting titles on the way:
A couple more points about these two new services from Apple:
Apple TV+ offers a free trial of just 7 days, Apple Arcade comes with a whole month.
Apple TV+ can be shared with up to 6 people, Apple Arcade with 5
Right now, neither service is for me, but in the future, Apple Arcade would be the obvious one for me to take up as my kids get older.
What wasn't announced?
3rd generation AirPods were not announced and I wasn't surprised. The 2nd generation just started shipping a few months ago so it feels like a 2020 product to me.
I was hoping that iCloud subscriptions would get cheaper or become better value in terms of the storage on offer. I'm looking forward to iOS 13 and the video storage feature for security cameras that's on the way, but there were no additional HomeKit announcements which was disappointing. All these devices are getting smarter, but the ecosystems could do with some love too.
Being able to draw power from an iPhone using its Qi charger seems to have caused a stir amongst the tech community. Personally, I couldn't care less for this feature. I can only remember a single time in the past 3 or 4 years where my phone has reached 0% battery life and that's because I didn't place it on a Qi charger correctly overnight.
Where was the innovation?
Given the invites had the text 'By Innovation Only' across them, there was a distinct lack of it. John Gruber quipped that the A13 chip was proof of innovation, but unfortunately we were all waiting for more and certainly there were a number of viewers waiting that 'one more thing' that just didn't come. Perhaps there'll be an October event where we get something interesting, but if that's it for 2019 from Apple, then they peaked at WWDC.
Final thoughts
Overall, a solid update to the iPhone lineup, underwhelming for the Apple Watch and a new iPad, for some reason. I'll wait to see what the iPhone 12 brings to the table.
Media reception
Here are a few of the more interesting takes I've seen on the event so far.
Reviews
I'll update as the week goes on as the embargo on reviews is lifted.
Updates
3D Touch
Apple dropped support for 3D Touch in the iPhone XR which signalled the end of a feature that looked quite promising but got little love. Back when I was still using an iPhone 5S, Instagram and others introduced peek-and-pop functionality through long press but moving to the iPhone 8 Plus which has 3D Touch, it felt more natural to press harder to peek at content.
Multiple camera support
I expected this feature to be limited to the newer devices, but not only is it going to be available to all 3 new phones, it will be available on last year's models too, as 9to5Mac report.
Games available at launch on Apple Arcade
MacRumors have a list of the 50+ games available at launch and Apple themselves highlgihted a few more in a Newsroom article.
The Verge
Nilay Patel made a good point about 3D Touch in The Verge's iPhone 11 review, it made moving the cursor around much easier when editing text. Apple actually introduced the ability to do this by long pressing the spacebar, turning the keyboard into a trackpad which works great. But I've been using the cursor moving feature almost daily for two years now so if they take away (or when i next upgrade) it's going to be an adjustment for me.
Here's the iPhone 11 Pro's review from The Verge:
Daring Fireball
John Gruber's iPhone 11 review is out too. What caught my eye was his take on why the Pro models got such a dramatic increase in battery life:
3D Touch Is Gone; Battery Life Is Better

These might seem like two unrelated items, but they're not.

...

But another reason is that 3D Touch required an entire layer under the display. Removing the 3D Touch sensors freed up space that Apple could use for something else — and it seems as though they've put it to use by including bigger, higher capacity batteries. Apple has never advertised the capacity of iPhone batteries, and even off the record, they don't want to talk about it.

...

So to recap, here's my theory. Last year's iPhone XR didn't have 3D Touch, so it had a bigger battery than it would have if it did, and that's why it got noticeably better battery life than the XS models. The regular iPhone 11 gained one hour of additional battery life compared to the XR via various small efficiencies in the A13 chip and other components. The iPhone 11 Pro and Pro Max have bigger batteries than their XS counterparts, using the space freed up by omitting 3D Touch. They benefit from the same small efficiencies that give the regular iPhone 11 one addition hour of battery life, plus a few more hours from bigger batteries.
I hadn't thought of that, I actually thought Apple's LCD technology was so far ahead of the game (like their processors) that it almost negated the need for OLED. If 3D Touch required that much space when a long press would do, it's crazy they included it in the first place. Definitely looking forward to seeing what ifixit get up to when they get their hands on the various models in the next week or so.
Updates
Gruber (link to his review above), linked to Matthew Panzarino's review where he visited Disneyland. Two things I took away from this review:
Get close with the ultrawide lens for some great shots, especially with kids
Night mode works really well
The Verge's Apple Watch Series 5 review
Good review by Dieter Bohn on the Apple Watch Series 5... but I'll wait for the Series 6. The App Store in particular seems like a nonsense feature there to appease the biggest complainers. Nice to see others also use Sleep++.
Update
Austim Mann's iPhone 11 Pro camera review is here and there are some great photos. As I've already said, Night Mode looks great and it seems like it just works.
Updates
MKBHD
Not his first video on the new iPhones but the best of them. While I agree there's not enough to really consider these phones as "Pro", I don't think reverse wireless charging is as big a deal as made out in this video and by other tech reviewers. A nice perk perhaps, but we're so used to single day battery life that we're all very good at prioritising when and how we charge. Better battery life across the board is more important than being able to top someone else's phone up.
A quick Look Around demo
I played around briefly with iOS 13 last night and if you're interested, I put together a very short demo on how Look Around looks and works.
iPhone 11 Pro & Apple Watch Series 5 Q&A
John Gruber conducted a Q&A on Twitter and compiled the answers on Daring Fireball. Some interesting questions and answers, well worth a read.
Update
Jared Polin's real world review
It's been a while since I watched one of Jared's videos, but I made the time to sit through this beast of a video. A great review, some good advice and some great photos all shot on the iPhone 11 Pro.
Update
iPhonedo's video on a month with the iPhone 11. Apart from the OLED display and the telephoto lens, there's nothing in it and for me, LCD is good enough. I can't personally justify the premium when it comes to the display but I would for the additional camera lens.