Just over 4 years ago, I linked to a video of Futura 2000 called ART OF FACTS that I'd watched a few times. It was a link I'd posted a few times in my past attempts at blogging and each time.
Futura 2000, Leonard Hilton McGurr, is an artist I've followed loosely over the past 15 years or so. I first came across his work in a collaboration between Futura and London streetwear brand, Maharishi called MHi. I had a t-shirt from their range, but wanted this skateboard for display purposes but never managed to get my hands on it.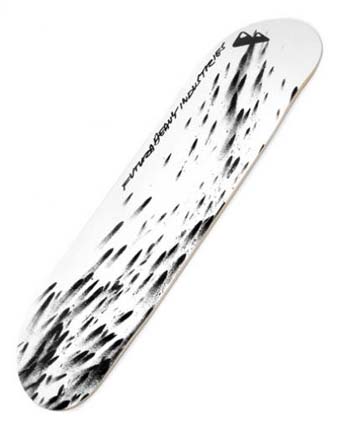 Futura 2000 x Collaboration
This recent video on the power of collaboration made me want to post about share more of his work.
FUTURA on How To Think About Identity + Brand, and The Power of Collaboration
Futura has been prolific and worked with everyone from Nike to BMW, Clarks to BAPE. There have been collaborations between Futura 2000 and Levis, Medicom, Hennessy, Casio, Stüssy and so many more.
Looking back through my watch history, I'd recommend the two videos linked and embedded above and also this one from a few years ago called CONSTELLATIONS by Futura.
Futura 2000 in print
Futura has also had a few books published, the one I own is called "Futura" published in 2000. It's a good look at his life and his art up to that point.
My Futura photos
I've collected a few photos over on Flickr in an album titled FUTURA and there are a couple on Instagram too, including one that made it in to my #cchanaholdingthings collection.