Over past few years, mental health has become an important topic to discuss positively rather than being something to be looked down on. Over the past decade or so in particular, there have been more and more avenues for things that affect our mental health to reach us, both positively and negatively. For the last couple of months I've tried to be more conscious of what it is I do with my phone and on the social networks I'm a part of. I wanted to share some of the steps I've taken to hopefully have a positive impact on how I use devices and how they can affect me.
1. Move or hide apps
Folders are an easy way to hide applications away from view. My home screen contains 28 icons but only half get any sort of attention.
By moving your item to the top and the opposite corner of your strongest hand is a way you can ever so slightly reduce use of an app. It's a minor inconvenience to have to stretch or invoke reachability, but it can do the trick in some cases.
If you have lots of apps, move 'problem' apps to the last screen and it can almost be forgotten unless you find yourself mindlessly swiping through all the screens.
Depending on the number of apps you have installed, this could be a game changer. For me, it definitely changed how I interacted with Facebook as the most obvious example. I moved Facebook from page 1 to 2 years ago, and that reduced my need to check the app significantly. A few months ago, I moved it to my third and final page and now I barely use it at all on my phone (more on that later). I've contemplated moving apps to avoid to their own screen, or even to remove them completely, but that's not been a necessary step for me to take. Yet.
Having thought about it more, using folders seemed like it was purely for the organisation of apps but in doing so it inadvertently changed my behaviour a number of times. If I had a game I played a lot, but moved in to a folder to make space for a new app, my usage would drop. When I look at my Social Networks folder, there are loads I use but nowhere near as much as when they had a spot on the home screen.
Just to illustrate how much difference the position of an app can make, this is my actual home screen (left) and what the layout would be like (right, ignore the dock) if it was ordered by time used this past week (bottom right to top left).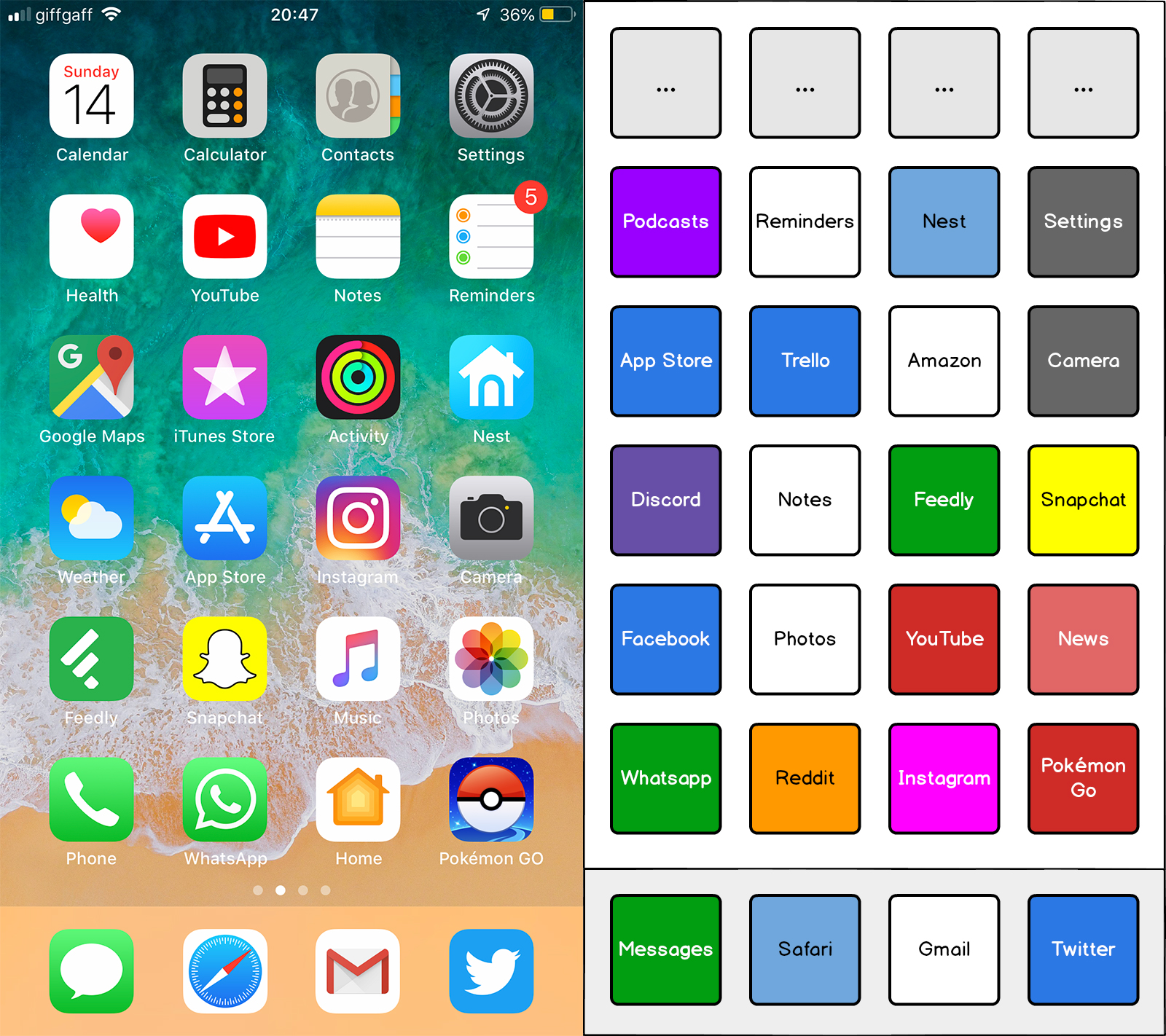 It was pretty eye opening to put this together, I did not expect to see Facebook up as high as it is, and yet it only got 26 minutes of use in an unusually engaging week after they announced 3D Photos. Messages only makes it on to the screen because it's in the dock.
It's possible for the iPad to have a blank home screen with just the dock, which is something I really wish the iPhone could do. There are ways to make your home screen appear to be emptyand I've been tempted to try but not had the will power just yet.
2. Notifications
Whether it's the noises, vibrations, notifications or that red circle with a number in it, there are a lot of ways for apps to get your attention.
For apps that try to get your attention constantly, turning device notifications, badges or both off can make a huge difference. I used to find I'd have something to look at on Facebook to find out it was nothing so eventually I turned it all off. Now I access Facebook from a desktop browser more than 70% of the time (up from what felt like 25%) and there are days that mobile usage is down at 0%.
While reducing the number of notifications was definitely a factor, the removal of the badge was the biggest change for me. Not seeing that red circle meant I had little reason to open the app. Inbox Zero is a philosophy that I've subscribed to for years now, but you can't just ignore email. It's one of the few exceptions I make, but being able to snooze (I use the Gmail app, not the Mail app) is one of those features that can help.
Wherever you can, disable notifications and while you're there disable badges if you can. If there's an app you can't avoid using, then consider checking it's own settings to see if you can at least reduce the clutter caused.
3. Unsubscribe
Email is great, it has it's place and is unavoidable. Be it bills, work, conversations or, if you're lucky, information about an upcoming holiday, you really can't away from it now. I mentioned Gmail and snoozing but there are also times where what you're getting is just clutter and noise. Unsubscribing is now often a click away and it's worth the seconds it takes.
Sadly some services choose not to subscribe you instantly and worse is when they either temporarily honour your request or just ignore it completely. You could always mark them as spam in that case or set up filters, but unsubscribing usually gets the job done.
4. Screen Time restrictions
Apple launched Screen Time as part of iOS 12 and it's both great and horrifying. You can see how often you pick your phone up, how long you use classes of apps and how many notifications you're flooded by. It's early days but it's good to know and I've been on a downward trajectory which is great.
Being able to restrict how much time I spend in certain apps has helped my to use them less. I may not open them any less but I spend less time in them which is great. There's no history other than the previous 6 days of the current week so it's hard to keep track of just how well that is, but it's been a really positive addition to the iPhone.
I've been limited to around 1 hour of social media a day and less than 10 hours of games a week. If I could also get that down to 7 or so, that would be great.
5. Other ways to improve your digital state of mind
Just be bored
I'd been thinking about this topic for a while and then up pops a video from Veritasium on why you should be bored.
Being bored is, well boring, but I've been trying to embrace it in a few ways at work these past couple of weeks. If I'm getting a drink from the café or kitchen area at work, either leave my phone on my desk or in my pocket. I have an Apple Watch, so I won't miss anything important. There are times where taking a break from my desk is the only time I really can check my phone but if I'm honest, it's not that often that that is the case. It's certainly an interesting and complicated habit to kick.
Breathe / mindfulness
For a few months I used the Breathe app on the Apple Watch daily. For at least a minute, but usually 2-5 minutes. Life gets busy and it's easy to put it off. Over the past few weeks I've made a small commitment of using it at least once a week. It's not quite like being bored, but a minute or 5 to reflect or just to concentrate on nothing but your breathing is a nice break to take. I would recommend at least trying it.

From averaging 4 minutes to nothing for most of the last 2 years is poor so my goal is to at least register minutes for the remainder of the year and get back up to 4 in the next few months.
Update
A year on, how has my own personal mindfulness been coming along? I started of strong but fell of pretty sharply as we entered the new year.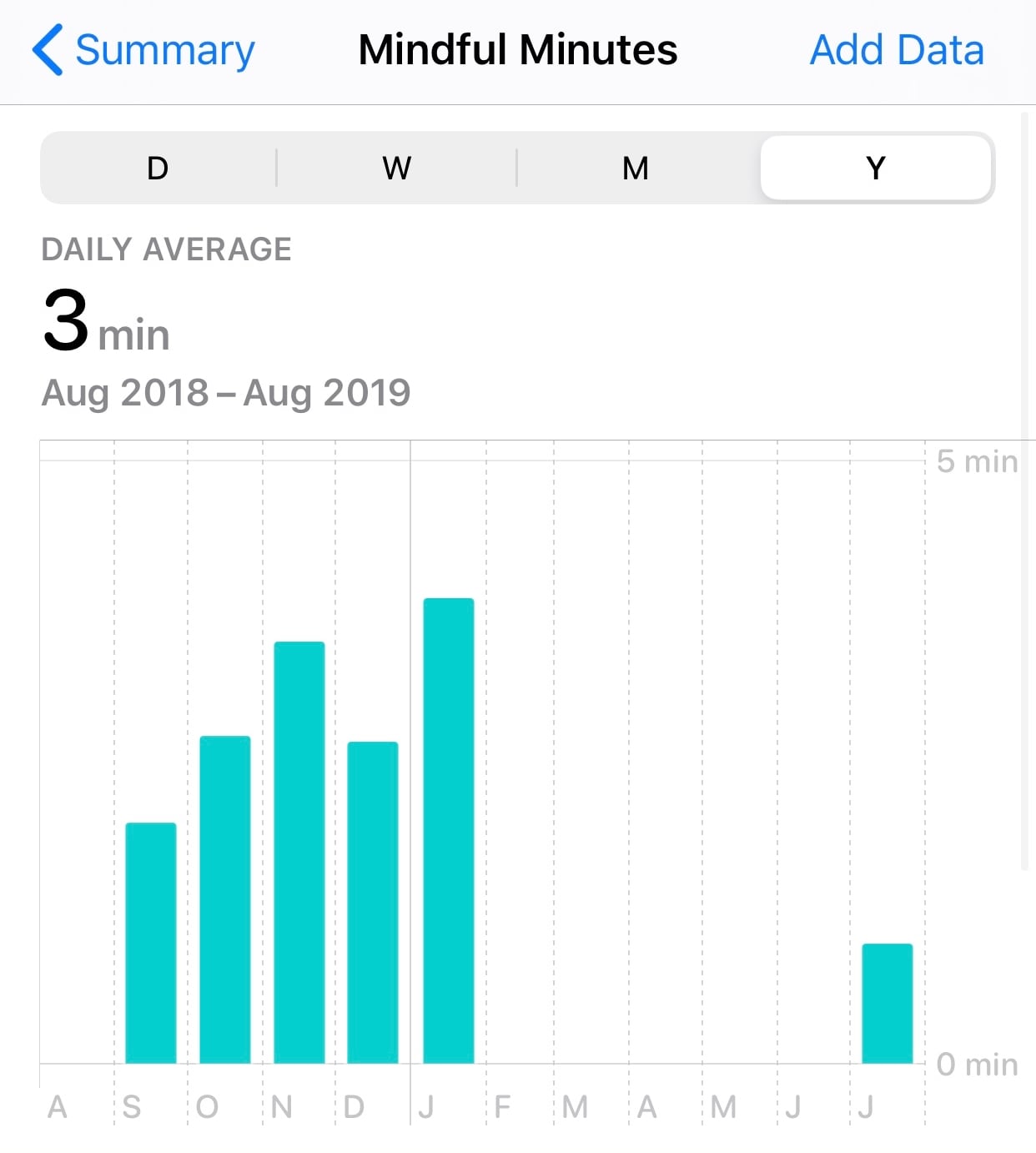 I shouldn't have any excuses, I just need to make more time to get my mindful minutes in every day.